Put Down the Hummus — A Massive Recall of Sabra Products Is Underway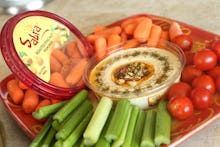 Drop that hummus.
The Sabra Dipping Company, the makers behind Sabra's Classic Hummus, have announced a recall of their popular product after samples in a Michigan store were found to be contaminated with the Listeria bacteria. 
So far there have been no reported cases and the recall is voluntary.
In a press release posted on the U.S. Food and Drug Administration website, Sabra said the recall would cover around 30,000 cases and people who purchased the affected product could return them to stores for a full refund.
Listeria is a serious bacterial infection, often contracted by eating contaminated food. The disease principally targets older adults, pregnant women, newborns or those with a compromised immune system, according to the CDC.
Sabra could not be reached for comment.
A disturbing trend. When it comes to food-borne illness, Listeria often takes a backseat to the more infamous E. coli. In 2006, E. coli outbreaks were linked to contaminated lettuce that bedeviled dozens of Taco Bells in the American northeast. The outbreak ultimately resulted in 71 incidents, with 53 hospitalizations and eight kidney failures. 
The same year, authorities linked another strain of E. coli, which killed three and sickened hundreds, to cattle manure on a California ranch. In 2007, Stephanie Smith was paralyzed from the waist down after she contracted E. coli from a Cargill hamburger. 
Many of the outbreaks stem from the industrialization of the food industry in the United States, also known as factory farming. 
"Dairy cow and pig factories often dump millions of gallons of putrefying waste into massive open-air cesspits, which can leak and contaminate water used to irrigate our crops. That's how a deadly fecal pathogen like E. coli ... can end up contaminating our spinach," Michael Greger, a physician and public heath advocate, told the Huffington Post. 
A 2002 study found that a number of Salmonella outbreaks in the United States could be traced to contaminated animal feed, which is often found in factory farming operations. The study also suggested various safety measures for the "animal feed industry." 
Takeaway. Sabra's Listeria-laden hummus could have been a lot worse. Every year, the CDC estimates that 260 people die of Listeria in the United States. The company's swift efforts to recall tainted products are admirable, but also serve as a reminder for all of us that there is mass food production and farming can lead more problems than we might realize.