Larry Wilmore Nails the Double Standard of Police Racial Bias in America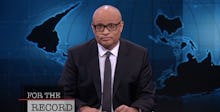 On Wednesday night,The Nightly Show host Larry Wilmore had his first chance to weigh in on the shooting of Walter Scott, the black man gunned down by a white South Carolina police officer. Though Wilmore called the fact that the officer who killed Scott has been charged for murder "great news," he also lamented that more police brutality couldn't be caught on camera.
Wilmore brought up one beach brawl in particular, in which two drunken white men had to be detained by a sheriff. Compared to the brutality caught on video in the South Carolina shooting, one officer's treatment of two white guys who had physically attacked him was shocking:
Shocking in its tameness, that is. Instead of using lethal violence to subdue two feisty, young detainees, the officer here pins and shoves them. No gun is drawn — not even a stun gun is drawn, for that matter — and the matter is resolved.
Meanwhile, Walter Scott runs away from Officer Michael Slager and winds up with bullets in his back and a stun gun planted on him to make him look guilty.
It's a frequent refrain, but one that unfortunately bears repeating. Police officers' treatment of black and white people is worlds apart. Scott's death is a familiar story, yet still a painful one. Body cameras are important, yes, but in these two cases, police action being caught on film isn't the only issue. The core problem is with racial bias in police corps, plain and simple. 
It's a sentiment that needs to be remembered, and as Wilmore says:
Watch the full clip below.
Source: Comedy Central