Tyler, the Creator Just Had One of the Biggest Weeks of His Career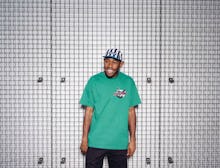 Tyler started from a blog; now he's here. In the beginning, the hip-hop collective Odd Future was housed in a Tumblr, giving away grimy mixtapes for free. But Tyler, the Creator has since built that hub into a burgeoning media empire. And this past week, he made some of his biggest moves yet.
There's still time left in the week, but Tyler has already launched a magazine and media app, released two songs, a video and announced an album, Cherry Bomb, set to drop Monday. The songs are some of the most inventive and unpredictable he's attempted. And the media app will give fans so much Tyler that they'll be hard-pressed to stomach it all.
The songs: "DEATHCAMP" is a classic N.E.R.D. hard-hitting funk song — Pharrell Williams would be proud. Tyler has expressed his deep love for Williams' rock project previously, and his new song proves he's well-versed in their sounds and styles.
The second, "FUCKING YOUNG/PERFECT" is at the opposite end of Tyler's musical spectrum. It's a ballad — and as sultry as his crew's ballads get: "Girl you're perfect, but you're too fucking young," he sings on the first-half's chorus. On the second half, up-and-coming "soul wop" singer Kali Uchis takes over vocal duties, acting as Tyler's too-young love.
Both songs get visual treatment in the "Fucking Young" video directed by Wolf Haley (one of Tyler's alter egos). The "Fucking Young" section is a cartoony Odd Future love story, while "DEATHCAMP" features a Mad Max-style car chase through the desert. 
Cherry Bomb will likely feature all aesthetics and styles in between. According to Complex, one track will feature Lil Wayne and Kanye West — the two biggest rappers he's ever secured. Tyler is truly moving up in the world.
The burgeoning media mogul: In addition, Tyler also launched Golf Magazine and a media app called Golf Media. "I'm creating my own MTV, my own Cartoon Network ... on this thing," as Tyler previously described it, according to Baller Status. "It's just basically my brain in one place."
According to Fader, Tyler's manager said the media app is "a bunch of different things that are original, curated and constantly changing. Original series, content, live streaming, radio, tour stuff, golf wang, interactive and whatever other buzzwords that sound mildly annoying and marketing-like."
It launched with previews to an animated show called The Jellies; The Shane Show hosted by Shane Powers — a former Survivor contestant turned vitriolic podcast host; a skate video from Illegal Civilization; a clip of Tyler interviewing Seth Rogen and Tyler's "Fucking Young" video. It also announced a movie night coming Friday that will show one of Tyler's "childhood favorites."
In a single week, Tyler, the Creator swelled his cult of personality to unforeseen levels. He became the author of the next surprising hip-hop release of 2015 and a media mogul. But everything he's releasing is high quality. And to think, all this started with a few lo-fi songs about skateboarding and suicide and a couple cat head T-shirts.