For People Who Record Police Shootings, the Video Is Just the Beginning of the Story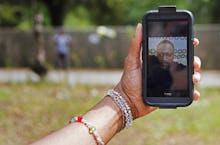 "A gift from God" is how the lawyer for Walter Scott's family described the appearance of Feidin Santana, the young man who filmed Scott being fatally shot by a South Carolina police officer on Saturday. In an interview with MSNBC's Joy-Ann Reid on Wednesday night, Anthony Scott, Walter's older brother, said, "We would not be at the point in the case that we are now" were it not for Santana's recording.
Now Officer Michael T. Slager is being charged with murder. Santana is being hailed as a "hero" across social media. But in spite of all the praise he's received in the past few days — including a "Fans of Feidin Santana" Facebook page that's garnered more than 1,300 likes and counting — the 23-year-old can't seem to escape a feeling of dread.
"I'm still scared," he told Matt Lauer on the Today show Thursday morning. "I felt that my life, with this information, might be in danger," he said in an MSNBC interview on Wednesday.
It's easy to see why he's worried. Just one month after filming a group of New York Police Department officers strangling 43-year-old Eric Garner to death on Staten Island last July, Ramsey Orta, also 23, was arrested for "criminal possession of a firearm," according to the Daily Beast. Six months later, in February 2015, police raided Orta's Staten Island home and arrested him for allegedly selling drugs to undercover police officers nine times.
Orta now faces criminal charges on both counts. He was recently bailed out after a two-month stint at the Rikers Island correctional facility — a stint marked by his refusal to eat prison food after inmates accused guards of tainting it with mysterious "blue-green pellets" that made them sick, the Daily Beast reported.
Consider this: Orta has long claimed the NYPD is retaliating against him for making the Eric Garner video public. Now, add the fact that Michael T. Slager, the former North Charlston officer who gunned Scott down, clearly showed no qualms about shooting an unarmed man and lying about it, and Feidin Santana's fears seem entirely plausible. The North Charleston police have acted swiftly to condemn their fellow officer in the case. But we'd be mistaken to forget that, for the brave men and women who record these horrific incidents, making the video public is often just the beginning.