With the Return of 'Veep,' HBO's Other Comedies Have Some Things to Learn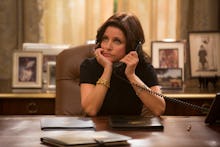 Though Game of Thrones will make the most noise and spill the most blood on Sunday night, two other HBO series are also making their returns: the beloved Veep for its fourth season, and the still-green Silicon Valley for its second. The two series are HBO's most successful comedies, save Girls, so scheduling them behind Game of Thrones signals support on the network's part.
But whereas Veep has had plenty of time to establish itself and become a fan favorite, Silicon Valley still needs to find its breakout moment. It's well-rated, but doesn't stand out on HBO's schedule. Time is ticking for the series to become a smash, though. For HBO series, the second season is ride-or-die time.
HBO has a two-season curse. It's not getting to the second season that's hard: Every original drama or comedy series that's debuted on HBO since 2010 has earned itself a second season, with the singular exception of Stephen Merchant's Hello Ladies. (There's another series that HBO ordered a second season of but never produced — the Dustin Hoffman horse-racing series, Luck — because production shut down after three horses died on set.)
The true difficulty for an HBO series is getting past season two. Shows like Enlightened, How to Make It in America and most recently Looking got the axe when they couldn't prove themselves in their second time at bat. Other series like Getting On and The Newsroom made it past season two simply because HBO greenlighted short final seasons to wrap up stories. Otherwise, if an HBO series makes it past season two, it's probably set for several more.
Now in its fourth season, Veep is exemplary of a two-season curse survivor. It's virtually set for as long as it still feels fresh and the parties remain involved. Credit the show's creators for continually driving the plot to new places. At the end of the third season, Veep pushed a button that seems so counter to its premise, it's radical: It made Vice President Selina Meyer the president. The titular veep is no longer veep. 
Such a leap gives the series fresh ground to explore, the kind of ground only a series that feels set for future seasons could access. Season four could always be Veep's final season, but it's doubtful. As long as Veep doesn't rest on its laurels (and does well with critics and awards), it'll continue as long as its producers and actors choose to do so.
By comparison, Silicon Valley has to prove itself. Not because Veep does better in the ratings than Silicon Valley — on the contrary, it actually averaged almost double the audience of Veep's third season. It also rated higher than Looking, Togetherness and even HBO's comedy golden child, Girls. Yet Girls feels bigger than Silicon Valley by virtue of stirring up controversy and conversation.
Silicon Valley is solid, but unremarkable. It does well, but doesn't inspire in-depth critical analysis or an intense fandom. Of the three series coming back for new seasons this Sunday (this one, Veep and Game of Thrones), Silicon Valley is very much the footnote, largely because it feels so unnecessary. To twist the old network catchphrase: It's not HBO, it's TV.
Veep could have provoked a similar reaction, but it had two major advantages: It was about politics, and it had the incredible Julia Louis-Dreyfus anchoring it. The latter is an obvious advantage — Louis-Dreyfus won three consecutive Emmys for the series, whereas Silicon Valley only earned a nomination for Outstanding Comedy Series. The former has given Veep weight outside the TV realm, as seen at 2014's White House Correspondents' Dinner when Louis-Dreyfus appeared in a segment with Vice President Joe Biden. Those two factors made Veep more than just a modestly rated HBO show and successfully pushed it over the two-season hump.
Though Veep shows getting over the two-season curse is possible, Looking and co. prove you can't do it without breaking out in a big way. If Silicon Valley can maintain its first-season ratings, it could sail through the accursed waters safely. A breakout performance or widely discussed episode would be better — it always helps to be a buzzy hit on HBO. The show needs its own "One Man's Trash," a Girls installment that got people talking.
Gaining more buzz would make Silicon Valley more than just safe, and more than just TV. That would truly make it HBO.