Instagram Just Went and Made Tinder So Much Better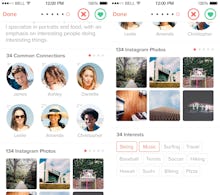 Instagram and Tinder have officially matched.
On Wednesday, the dating app announced it will formally integrate Instagram into its platform, enabling users to connect their Instagram accounts with their profiles. As Tinder explained on its blog:
Simply open Tinder, go to your new profile and connect it to your Instagram account with a single tap. Your Tinder profile will automatically start displaying your recent Instagram photos. 
Tapping on someone's Instagram via Tinder will reveal the user's 34 most recent photos, plus the ability to access additional information available through Instagram, like the user's followers and comments on their photos, according to TechCrunch.
Connecting your Tinder to your Instagram is optional, but it's likely that plenty of users will. As Tinder previously noted in a company blog post, many users already include their Instagram handles in the short bios beneath their profile photos.
The company also announced it will start showing more mutual friends (including friends of friends), as well as all Facebook interests, not just the ones you have in common.
In offering users the option to integrate Instagram to their profiles, Tinder seems to be responding to a common gripe about the app: It provides minimal information to judge people on. On the one hand, that simplified experience has always been a Tinder selling point; there's nothing wrong with judging people based on looks if that's what your dating objective is. 
But the anonymity of Tinder has also given it its famously "creepy" reputation. As MTV.com put it, "Every Tinder user worries about meeting up with someone who looks totally normal in their profile but who's actually batshit insane IRL." 
Integrating Instagram accounts immediately makes things less anonymous and paints a fuller portrait of each person.
"It will help you better understand who the person is that you're talking to," Tinder cofounder and president Sean Rad told Mashable. "When you're able to asses the degrees of separation between you and an individual, it adds a lot of value in the form of context, trust and everything."
Tinder's announcement, currently getting mostly positive reviews, seems wise. It offers users something they clearly want, judging from all the profiles that already include Instagram handles. That's a stark contrast to the rollout of Tinder Plus, which met with backlash for its lackluster features (multi-city swiping, the ability to un-swipe) and for its arguably ageist pricing model.
Being able to see more of people's lives is useful for lessening Tinder's creepy vibe. But really, the move is smart for a simpler reason: Tinder needed to freshen things up. The app, as both users and investors have realized, can only entertain people for so long before the monotony of swiping and the limited pool of options ruins what used to be a fun experience. 
With Instagram attached, we suddenly have a new reason to fire up the rusty app and get swiping again. For now.