Hillary Clinton Will Announce She's Running for President on Sunday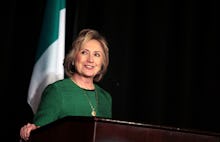 Ready for this?
Nearly seven years after she conceded the long 2008 Democratic presidential primary contest to then-Sen. Barack Obama, Hillary Clinton is jumping back in the ring. The former secretary of state will formally announce her 2016 bid Sunday, according to the Guardian. The news that Clinton would announce this weekend was first reported by Business Insider.
Clinton will make it official through a message on social media, then with an email to supporters and a video on her website, according to the Guardian. She will then travel to Iowa and New Hampshire, CNN reported Friday morning. The announcement comes a little more than a week after Politico revealed Clinton's staff would be headquartered in Brooklyn, New York.
In 2007, Clinton declared on a Sunday, writing on her website, "I'm in and I'm in to win." This second effort at fulfilling that original promise caps off years of speculation, initially over whether she would try it at all. That was decided months ago, but questions about everything from who she would hire to run the coming campaign — it will be 35-year-old Robby Mook — to her plans for the "Ready for Hillary" crew, have persisted. Clinton is expected to integrate a number of those true believers into a larger organization including President Barack Obama's top campaign pollster, Joel Benenson, and a slew of recently hired political operatives.
Unbeatable? Clinton enters the Democratic field as an overwhelming favorite. A Quinnipiac poll released Wednesday focused strictly on how she would fare in general election contests against a series of early Republican frontrunners, essentially ignoring the possibility that Clinton could lose the nominating contest. (The survey found Clinton losing support in battleground states like Florida and Colorado.) 
For voters holding out hope for a primary fight, the numbers are not encouraging: an ABC News/Washington Post poll from April 2 showed Clinton with 66% support among Democrats. Vice President Joe Biden and Elizabeth Warren, the Massachusetts senator who has repeatedly denied any interest in running, were tied for second, with 12% each. Vermont's independent Sen. Bernie Sanders received 5%, while former Virginia Sen. Jim Webb and former Maryland Gov. Martin O'Malley each had about a point. A poll released the day before she declared in 2007 found a similar gap — Clinton led Obama, who was still a mystery to most voters at that point, by a 41% to 17% margin. 
There is no Barack Obama 2.0 in the 2016 field. Beloved by the party's liberal base for her populist economic message and pugnacious anti-Wall Street mien, Warren might be the closest thing to a viable challenger. Alas, she has shown no interest in joining the fight. O'Malley, the two-term governor from Maryland, claims a formidable liberal record, but has struggled to move the dial with likely voters.
Once again, Clinton will enter her party's primary on what looks like a rocket ship to the nomination. The ride begins Sunday. Expect a few bumps along the way.