Madonna's Stand-Up on 'The Tonight Show' Reveals Just How Poorly Female Comics Are Treated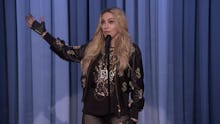 Madonna is a pop icon still releasing new music decades into her career. Yet on Thursday night's The Tonight Show Starring Jimmy Fallon, she revealed a desire to do something else: stand-up comedy. 
In a cute bit during her appearance on the show, Madge did a purposefully terrible stand-up routine. It was a goofy segment but a harmless one. Yet the comments on the YouTube clip reveal something not funny at all: Female comedians continue to receive unfair judgment for their looks and their age.
From comments about her age to cracks about her teeth, Madonna — even as a fake stand-up comedian — was held to an unreasonable level of scrutiny. Instead of focusing on the content of the bit, which many commenters mistook for a sincere attempt at stand-up, commenters fixated on ripping apart her appearance.
Even when complimentary, the comments about Madonna's looks are inappropriate. They're a reminder that from red carpets to the world of comedy, women have to fight to be judged on anything but their appearance.
This is a familiar story: When comedian Sarah Millican stepped onto the BAFTA Awards red carpet, she received such criticism for her choice of dress that she felt compelled to fight back. "I thought I had been invited to such an illustrious event because I am good at my job," she wrote in an essay for Radio Times in May 2014.
In 2010, when Olivia Munn joined The Daily Show as a correspondent, she was greeted with laser-sharp focus from the media on her being the show's token hot woman. 30 Rock's Tina Fey even felt compelled to satirize the situation on the show.
What's worse: Even absent all the inappropriate feedback about female comedians's bodies and looks, there's still that awful chestnut that women aren't funny.
Women like Amy Schumer, Lena Dunham, Millican, Sarah Silverman, Fey, Amy Poehler, Kathy Griffin, Margaret Cho, Maya Rudolph, Chelsea Handler, Wanda Sykes, Tig Notaro and many more have worked too hard for this bullshit criticism to still be around. It's wrongheaded, sexist and just plain stupid.
Women are funny, and women deserve to be judged on their comedy rather than their looks. It's sad that a bit as harmless as Madonna doing bad stand-up on The Tonight Show has to be a reminder of the sexism women in comedy face every day.