Watch a New York City Police Detective Pocket Nearly $3,000 During a Brooklyn Raid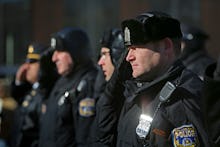 A New York City Police Department detective has been suspended without pay after video surveillance caught him allegedly pilfering close to $3,000 from a Brooklyn, New York deli during a police raid. 
Ian Cyrus, a 12-year veteran of the department, was helping his fellow officers conduct the raid after a store employee allegedly sold loose cigarettes to an undercover officer. They took $593 from the cash register as well as packs of cigarettes as evidence, WABC-TV reported.
But deli owner Ali Abdullah noticed something else was missing — about $2,650 in rent funds hidden in a box under the store's counter. After looking at the security footage, the money appeared to have disappeared into Cyrus's pocket. The moment comes around the 1:20 mark in the video below.
"I was shocked it was a cop," Abdullah told the New York Post, saying he could understand "a thief coming inside the store and stealing, but cops? No." While the $593 was included in a receipt from the police department, the $2,650 was not, the Huffington Post reported.
The investigation into the April 3 incident was apparently sparked when WABC-TV questioned Internal Affairs, which deals with issues of police misconduct. Abdullah told WABC-TV that when a supervisor initially saw the footage, their reaction went like this: "They said, 'Oh (expletive),' he's going to lose his pension, lose his life, for $2,600?'"
"That video combined with an allegation of theft is enough to warrant an investigation," NYPD spokesman Stephen Davis told the Wall Street Journal on Thursday. "It's good enough to support taking appropriate action at the time. The video is indicative of activity that requires more investigation."
Police misconduct across the country: It seems as though the proverbial question of "Who watches the watchmen" is popping up with increasing — and terrifying — frequency.
In yet another case of police brutality against the black community, 50-year-old Walter L. Scott was killed Saturday after North Charleston, South Carolina, police Officer Michael Slager fired eight shots at his back as he ran away. Slager originally told police he had killed Slager in self-defense; after video footage emerged proving otherwise, Slager was charged with murder.
Meanwhile, a Florida parole officer was recently jailed after one of his probation cases turned in footage she had filmed while he allegedly raped her. Authorities said the woman was initially afraid to report the abuse because she didn't want the officer to put her back in jail for violating her parole.
On Wednesday night, during a panel discussion at Al Sharpton's National Action Network conference, John Crawford Jr., the father of John Crawford III, who was shot and killed by a police officer in a Walmart in August 2014, emphasized the importance of getting the real story out.
"You need to hurry up and get to [the media] immediately because what [police] do, the general protocol is they're going to start framing the story how they want it," he said, according to the Guardian.
While refrains of #NotAllCops may pop up in response to these kinds of events, though it is surely important not to lump all police officers together with these examples of misconduct, as more incidents occur around the country, it's impossible to ignore the larger and disconcerting trend of police misconduct in America. Whether it's robbery, rape or murder, the police should be preventing these crimes, not perpetrating them.