Watch Amy Schumer Hilariously Destroy Society's Ridiculous Beauty Standards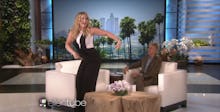 Amy Schumer is safely in the guild of comedians who makes sexism funny. 
In her interview with Ellen DeGeneres Wednesday, Schumer continued her critique of the beauty standards that she's had to deal with, especially when she's in Los Angeles, now that she's reached a certain level of fame. 
From jokes about her newfound awareness of her "at-risk [double] chin," to the idea of how women should eat — just a few teensy nibbles — Schumer has once again proven she's a pro when it comes to dissecting, through comedy, the sexism women face every day.  
On L.A.'s seemingly rigid body standards:
And the consequential body shame:
When DeGeneres asked Schumer what she does when she's in Los Angeles, since she feels like a weirdo octopus, Schumer responds:
On street harassment and age: 
When joking that she only got tickets to a Laker game because "[her] business agent thought [she] was mad at him for sexually harassing [her]," Schumer adds that ageist beauty standards change how a woman feels about street harassment. She explains that women in their 20s don't want all the attention, but now, she says, "I'm 33, so I'm just starting to really appreciate that — you know what I mean?" Here she is, begging for attention:
On being friends with beautiful people: 
Schumer joked she and Glee's Dianna Agron cannot be friends, because they live in two different worlds. Agron, Schumer joked, has "hot people problems. ... 'He won't stop calling,' and I'm like 'mm-hmm, I hate that.'"
On (not) being a sex symbol:
When DeGeneres asks Schumer about her love life, Schumer highlights the media's focus on female celebrities' love lives, while also poking fun at body ideals.