The Moment Walter Scott's Mother Met the Man Who Filmed Her Son's Shooting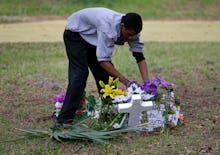 Meeting the man who filmed your son being murdered is a nightmare scenario for any parent. But in the case of Judy Scott, it was also a time for gratitude.
Her son, Walter Scott, was killed by a police officer in North Charleston, South Carolina on Saturday, April 4. Officer Michael T. Slager claimed to have shot Scott in self-defense following a scuffle over his stun gun, but a cellphone video recorded by 23-year-old passer-by Feidin Santana later revealed that Slager had in fact fired eight shots toward Scott's back as he ran away.
If it weren't for Santana's video, Scott's family would've been forced to accept the official narrative: the lie that their son and brother posed an immediate threat to the officer. Now, Officer Slager has been charged with murder. In a moment captured by NBC, Judy Scott was able to meet and thank Santana for his courage for the first time this morning.
"Thank you, God," she says. "Thank you, God. Thank you, Lord," she says as she embraces Santana. The rest of Scott's family proceed to thank Santana.
And really, what more is there to be said?