Here's What it Looks Like When a Skydiver Drops a GoPro from 10,000 Feet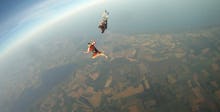 In what's probably the best accidental ad campaign ever, a Swedish parachuter lost his GoPro camera after a botched parachute formation sent it spiraling, like a may-daying Warner Bros. cartoon plane from the '30s, into a meadow 10,000 feet down.
Watch on a settled stomach, or if you're trying to convince your doctor you have vertigo.
Kristoffer Örstadius from Kristianstad, Sweden, wrote on YouTube that his father recovered the camera from the field, and after finding the memory card in tact, played back the video — of a group of happy Swedes, the botched attempt, a dizzying drop and finally, a satisfying "smack" against the Earth.
It started with the camera falling out of their hands:
Which led into a seemingly endless and mind-boggling spiral:
And ended with a surprisingly soft landing in the grass:
Örstadius later posted that the GoPro's owner, Tobias Persson from the nearby parachute club, had been found, which isn't surprising since the video now has over 2.3 million views from a week ago. It turns out the camera had been sitting in the field for years.
While the camera's downward spiral was accidental, it did offer an otherwise unattainable look at what you might see while free-falling in an uncontrollable spiral. Most people would hope to never experience this kind of view firsthand, so it's a good thing these skydivers had a perfectly timed case of butterfingers.
h/t the Verge