11 Tweets Prove That America Is Ready For Hillary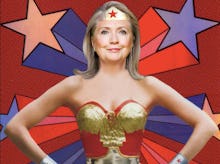 Years of speculation cannot dampen the excitement of Americans who are "Ready for Hillary."
After news broke last week of her national campaign headquarters being set up in Brooklyn, the New York Times and dozens of media outlets confirmed today that Hillary Clinton will announce her candidacy for president via video this Sunday, while she is en route to pivotal primary states like Iowa and New Hampshire, to kick off her ground campaign.
The news came shortly after a new epilogue to her second memoir, Hard Choices, was published at the Huffington Post, in which Clinton all but declared her candidacy. "Becoming a grandmother has made me think deeply about the responsibility we all share as stewards of the world we inherit and will one day pass on," she wrote, in a subtle response to those critics who posited that becoming a grandmother would make her "soft" or end her political aspirations. "Rather than make me want to slow down, it has spurred me to speed up."
Though her declaration will be anti-climactic given all the hype, the potential of her presidency is utterly thrilling. And while, for months, we have discussed the varying possibility of "Hillary fatigue," the word on social media suggests that Americans young and old, gay and straight, white and black and everything in between, are #ReadyForHillary and #HillarysBigAnnouncement.
These people are among the countless who are ready for the final glass ceiling to be broken, and are freakin' pumped to see Hillary hit the campaign trail, full throttle. They make us wonder, what "fatigue"?
Animal rights advocates know Hillary is on their side:
Women, of course, are totally ready:
Even those who aren't Democrats are ready:
And, men are ready, too:
Some are imagining a dream ticket with Elizabeth Warren:
And some are imagining Hillary as Wonder Woman:
Because, obviously, she is. Women and their allies, let's celebrate an already awesome-looking future.