11 Emotional Photos Of Walter Scott's Funeral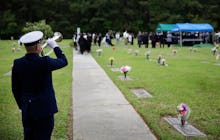 Walter Scott was laid to rest Saturday in a ceremony that drew hundreds of mourners to W.O.R.D. Ministries Christian Center in Summerville, South Carolina.
Scott's death at the hands of North Charleston police office Michael Slager drew nationwide outrage after a cell phone video revealed Slager had repeatedly shot the 50-year-old black man in the back. USA Today reports that at least 200 people were unable to enter the funeral after the church reached its 400-person capacity, delaying the service. Senator Tim Scott as well as U.S. Reps. Jim Clyburn and Mark Sanford were in attendance.
According to The Guardian, pastor George Hamilton told attendees that Scott's death was the result of "overt racism" by Slager and advised them to "keep your phone handy; keep your charge up. You never know when you need to be around."
Slager has been fired and charged with murder since the video's release. CBS News reports that he is being kept in an isolation cell removed from other detainees for his own protection; after the video showing the officer killing Scott was distributed online, both the North Charleston Police Department and his lawyer abandoned his defense. Police chief Eddie Driggers said he was "sickened" by the footage.
"There's something inside of you that makes you want to be there for his family; you're feeling what they are feeling," North Charleston resident Stella King told the New York Times. "They're always saying black people don't care about each other. Well, in times like these they see we really do."
The evening before the funeral, a candlelight vigil in Charleston also drew large attendance: