Almost Half of the New Season of 'Game of Thrones' Just Leaked Online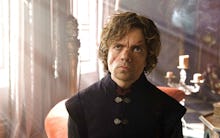 Winter is downloading.
TechCrunch reports that the first four episodes of Game of Thrones' fifth season have mysteriously ended up on various Internet piracy hubs after first appearing online at around 6 p.m. Saturday. That's more than 24 hours before the show was scheduled to air at 9 p.m. Sunday. 
In just a few hours, over 50,000 people had downloaded the files. By Sunday morning, according to Variety, the files had been downloaded nearly 800,000 times.
Basically, the fifth season premiere just imploded harder than Oberyn Martell's head.
Judging from various screenshots floating around the Internet, the leak is legitimate and high quality as well:
This probably constitutes a Red Wedding for HBO's new online-only, $15-a-month streaming service HBO Now, which launched Tuesday and was anticipating its first trial by combat Sunday during the season premiere. 
In the wake of the four-episode leak, HBO Now is behind by at least four weeks — and that's assuming more episodes don't drop at some point in the interim. It's entirely possible that the whole show will be available to watch online sometime soon. Fans of the show will have to choose between illegally catching up or dodging spoilers for weeks. 
There's probably something to be said for patience, but no one will listen. As Gizmodo's Maddie Stone points out, perhaps the smart thing to do would have been to release the entire season at once, Netflix-style.