"F*ck Your Breath" Graphic Video Shows White Cop Killing Unarmed Black Man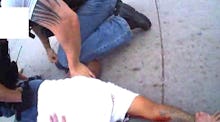 Video of an arms bust gone wrong shows the moment when an officer with the Tulsa County Sheriff's Office shot and killed 44-year-old black man Eric Courtney Harris as he was unarmed and pinned on the ground by several policemen.
The body cam footage, released Friday, captures the chase that ensued after Harris fled from undercover Violent Crimes Task Force officers to whom he allegedly attempted to illegally sell a 9mm semi-automatic pistol. Harris is tackled by the officers before one calls for a Taser, though the nature of the struggle cannot be determined from the video. What is clear is that instead of a jolt of electricity, 73-year-old reserve deputy Robert Bates fires a round from his revolver while Harris is pinned.
On Monday, Bates was officially charged with manslaughter for his role in the incident "after officials accused him of negligence" in Harris' death, the LA Times reports.
Warning: Graphic footage.
Bates drops the pistol in apparent shock, immediately clarifying that he thought it was his Taser and saying "I'm sorry." For Harris, the difference between accident and intent was meaningless. He died within the hour — but not before deputies made it clear that he deserved what was coming to him.
"He shot me! He shot me, man. Oh, my god, I'm losing my breath," Harris says as officers pin him to the ground following the lethal gunshot.
"You fucking ran! Shut the fuck up! Fuck your breath!" an officer shouts as Harris lies dying.
Sheriff's Office representative Shannon Clark told KTUL-TV that the incident was an accident. "Nobody meant to harm this individual to this degree," Clark said. "He wasn't giving his hands up freely, they were struggling trying to get him into custody. [The deputy] ran up, he was trying to use a less lethal device, he was trying to get the situation under control, inadvertently he discharged a round from his service weapon."
"He made an inadvertent mistake," Sheriff's Capt. Billy McKelvey told the New York Daily News. The reaction was much less understanding:
Despite initial defense of Bates' actions in the incident, Monday's manslaughter charges show the department is taking the shooting very seriously and does not intend to let the officer walk free.
Updated: April 13, 5:49 p.m.