It's Official: Hillary Clinton Is Running for President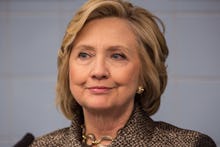 She's in! Hillary Clinton is officially running for president.
Clinton adviser John Podesta made the first official announcement of Clinton's campaign Sunday, thus formally ending a monthslong period of speculation over — when not if — the former secretary of state and first lady would take the plunge. Podesta said she will soon hit the road in the electorally important state of Iowa to begin talking to voters. 
The announcement was followed by this slick-looking campaign video:
... as well as this equally slick website:
Clinton subsequently posted the video to her new Facebook page:
... and tweeted the news from her official account, whose avatar has been replaced with the new Hillary for America logo. The tweet was retweeted thousands of times within minutes:
According to CNN's Dan Merica, who noticed a change on the official Ready for Hillary website, it looks like the organization will morph into "Ready PAC" in order to support Clinton's candidacy:
Gothamist's Christopher Robbins notes she will probably need that assistance as the Clinton campaign and its super PAC allies hope to raise about $2.5 billion this campaign season — a full $1.4 billion more than Team Obama raised in 2012. Clinton has been rumored to be quietly building a massive fundraising operation that will kick into gear this week, with the express intent of crowding out potential Democratic primary challengers and ensuring her candidacy gets off to a lavishly funded start.
It doesn't matter whether you're ready for Hillary because it certainly looks like she is. Welcome to campaign season, everyone. For the next 16 months, Americans are going to see a lot of Hillary Clinton.