14 Quotes That Prove Amy Poehler Gives the World's Best Advice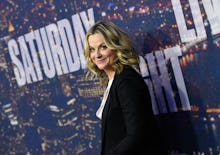 Amy Poehler, the absurdly funny mastermind behind Parks and Recreation and all of our favorite awards show moments, has long been an icon of self-confidence and empowerment. She's direct, charming and outspoken, which not only makes her a great comedian, but also a veritable fount of relationship advice.
Poehler knows all about the ups and downs of being in love. She has gone through a divorce, which she shared in her 2014 book, Yes, Please. But more importantly, she's generous with her wisdom. This is evidenced by the web series she co-founded, Smart Girls at the Party. But you don't need to be a teen girl to take her advice. Here are Poehler's best insights on love and connecting:
On being vulnerable
"Don't treat your heart like an action figure wrapped in plastic and never used. And don't try to give me that nerd argument that your heart is a 'Batman' with a limited-edition silver battering and therefore if it stays in its original packing, it increases in value." — 2011 Harvard Commencement Address
On standing up for yourself
"Sticking up for ourselves in the same way we would one of our friends is a hard but satisfying thing to do. Sometimes it works." — Yes, Please
On valuing kindness above all else
"The only way we will survive is by being kind. The only way we can get by in this world is through the help we receive from others. No one can do it alone, no matter how great the machines are." — Yes, Please
On not playing it "cool"
"To some people, not caring is supposed to be cool, commenting is more interesting than doing and everything is judged and then disposed of in, like, five minutes. I'm not interested in those kinds of people. I like the person who commits and goes all in and takes big swings and then maybe fails or looks stupid; who jumps and falls down, rather than the person who points at the person who fell and laughs." — Elle magazine, January 2014
On arguing the right way 
"If you can speak about what you care about to a person you disagree with without denigrating or insulting them, then you may actually be heard, and you might even change their mind." — "Ask Amy" segment from Smart Girls
On letting yourself be loved
"Accepting love is very hard, but it's so nourishing when we do. Therefore, we have something to give back to someone else." — "Ask Amy" segment from Smart Girls
On facing down chaos
"Imagine spreading everything you care about on a blanket and then tossing the whole thing up in the air. The process of divorce is about loading that blanket, throwing it up, watching it all spin and worrying what stuff will break when it lands." — Yes, Please
On feeling worthy
"You deserve love and you'll get it." — "Ask Amy" segment from Smart Girls
On taking second chances
"Continue to share your heart with people even if it has been broken." — 2011 Harvard Commencement Address
On saying you're sorry
"Apologies can be simple. They don't have to be grandiose, and it's never too late to apologize." — "Ask Amy" segment from Smart Girls
On appreciating others
"Opening your heart and being courageous and telling people that you care about them or like them or that you think they're special only makes you a better, bigger, kinder, softer, more loving person and only attracts more love in your life." — "Ask Amy" segment from Smart Girls
On not faking it for someone else's sake
"Girls, if a boy says something that isn't funny, you don't have to laugh." — Glamour Women of the Year acceptance speech
On never settling 
"Anybody who doesn't make you feel good, kick them to the curb. And the earlier you start in your life, the better." — 2011 Harvard Commencement Address
On finding the One
"There's a lid for every pot — that's what my Nana used to say." — "Ask Amy" segment from Smart Girls