18 Dramatic Photos Show the Massive Protests Taking Place in Brazil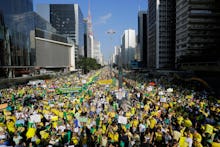 Hundreds of thousands of disaffected Brazilians took to the streets this weekend in a second round of protests after the first ones in March, calling for the ouster of President Dilma Rousseff over corruption charges and a stagnating economy.  
While organizers of the protests said the turnout across the country was 1.5 million, police estimates were around half that number, closer to 700,000.
Sao Paulo
Rousseff and her Workers' Party were narrowly re-elected in October, but it's been a bumpy ride ever since. Her government has been mired in corruption scandals, and her approval ratings hover at around 13%. 
She has been accused of accepting kickbacks during her tenure on the board of directors for state-owned oil company Petrobras in exchange for overpaying contracts with the private sector. She has since been exonerated by the attorney general, but many Brazilians are still unsatisfied. 
Other members of her Workers' Party have also been accused of Petrobras corruption. The scandal includes 54 investigations, 21 federal deputies and 12 senators. Concerns over impunity have fueled frustration in the country, given approximately half of the congressional ethics committee are among those involved.
The economic growth rate has been pretty dismal as well — just 0.1% in 2014. Compared with the 2010 growth rate of 7.4%, the economy has shrunk dramatically in the space of four years. Brazil is the seventh largest economy in the world; this dismal growth could have the potential to upset the global economy, which is still relatively fragile as the world recovers from the last decade's recession.
While there have been some developments in this scandal, such as the supreme court approving dozens of investigations, the process will likely take a number of years and the central figure, Rousseff, has already been granted immunity. 
It seems unlikely that the calls for her impeachment will be quelled anytime soon, unless major headway is made in ensuring accountability. Until then, the people of Brazil will likely continue these marches to bring accountability to their government.
Rio de Janeiro