It Cost This Cab Driver $10,000 To Learn Not To Discriminate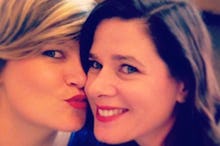 Any city-dweller knows that urban transportation is can be frustrating for many reasons, but blatant discrimination should never be among them. 
Yet that's exactly what one same-sex couple experienced in New York in 2011. Christy Spitzer and Kassie Thornton likely expected an uneventful trip when they grabbed a ride from cabbie Mohammed Dahbi. Instead, Dahbi reportedly called the couple "b-----s," "c---s" and "whores" and told them to "keep that [behavior] for the bedroom or get out of the cab" when they kissed — a "light peck," Spitzer told DNAinfo.
Not only did the couple refuse to pay their cab fare, but they also filed a legal complaint against Dahbi. "We felt that what happened to us was wrong and [Dahbi] needed to take responsibility for his actions," Spitzer said. 
Judge John Spooner agreed with the couple on Friday, ordering Dahbi to pay them $10,000. While the driver insisted his passengers' sexual orientation was unrelated to his treatment of them, Spooner disagreed, stating that the cab driver acted out of his discomfort "with two women sharing a romantic kiss." Spooner further mandated that Dahbi attend anti-discrimination training and pay the city an additional $5,000 penalty. The punishment must be approved by New York's Commission on Human Rights, which initially brought the complaint against Dahbi on the couple's behalf.
Spitzer and Thornton are hardly the first NYC cab passengers to face discrimination. Individuals have spoken out about bigotry from cab-drivers before, which may have inspired the couple to take legal action in the first place.  
"We know that people are discriminated against all the time," Spitzer told DNAinfo. "We just felt we had to let the driver understand that it's wrong. So he could learn, and he doesn't do it again."
h/t Cosmopolitan