Australia Just Took a Stand Against Anti-Vaxxers the U.S. Needs to Follow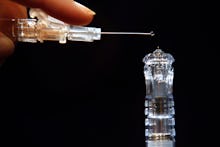 Australian Prime Minister Tony Abbott has some harsh news for anti-vaccination parents: They stand to lose about $11,000 a year in welfare benefits if they don't immunize their children. 
The bipartisan "No Jab — No Play and No Pay" law is set to go into effect in January 2016 and will target parents who claim to be "conscientious objectors" to vaccination rules. Currently, moms and dads can cite religious or personal reasons in order to avoid vaccinations and still receive taxpayer-funded benefits. 
But that's about to change. 
"The Government is extremely concerned at the risk [refusing to vaccinate] poses to other young children and the broader community," read a statement from Abbott. "Parents who vaccinate their children should have confidence that they can take their children to child care without the fear that their children will be at risk of contracting a serious or potentially life-threatening illness because of the conscientious objections of others."
While the overall immunization rate in Australia hovers around 97%, the number of unvaccinated children has risen from 15,000 to 39,00 in just 10 years, according to the statement.
Some religious and medical exemptions will still stand, but the restrictions have been tightened considerably. Australian outlet ABC reported that the country's social services minister said he "only expected a very small number of families to be exempted."
The bill still needs to be approved by Parliament, but the Sydney Morning Herald reported that opposition leader Bill Shorten is supportive of the measure. "We believe fundamentally in the science of vaccination," he said.
In response, a Change.org petition opposing the measure has garnered nearly 10,000 signatures.
Meanwhile, in the United States: Australia may be taking an unusually strong stand against the pseudoscience that backs the anti-vaccination movement, but unfortunately, the U.S. hasn't followed suit yet. 
In December 2014, a measles outbreak ripped through California — the epicenter was traced back to Disneyland — and officials reported that most of those who were affected were unvaccinated.
According to the Centers for Disease Control and Prevention, "the U.S. experienced a record number of measles cases during 2014, with 668 cases from 27 states ... This is the greatest number of cases since measles elimination was documented in the U.S. in 2000."
While there's no causal link between the anti-vaccination movement and the uptick in measles cases, the evidence is there. 
The Disneyland outbreak was "100% connected" to anti-vaccination advocates, Dr. James Cherry, a specialist in pediatric infectious diseases specialist at the University of California, Los Angeles, told the New York Times in January. "It wouldn't have happened otherwise — it wouldn't have gone anywhere. There are some pretty dumb people out there."
While anti-vaccine proponents continue to aggressively share pseudoscience about something most doctors agree is completely safe, children around the country continue to get sick with diseases that had been all but eradicated thanks to advances in modern medicine. The numbers are clear, and Australia is acting in the best interests of its people, whether they believe it or not. It might be time for the U.S. to do the same.