IKEA's Innovative New Mobile Shelters Will Help Tens of Thousands of Refugees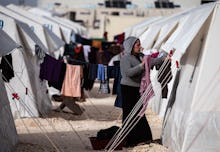 By 2013, 51 million people across the world were displaced and forced to leave their homes, marking the first time that number has surpassed 50 million since World War II. Millions of people were left with nowhere to go and forced to live in improvised shelter in unsafe refugee camps.
In an effort to combat this growing problem, the IKEA Foundation and the United Nations High Commissioner for Refugees have teamed up to produce mobile homes for refugees. The easy-to-construct homes fit five people, and will be a safer, more durable and more comfortable alternative to the makeshift tarp shelter that is synonymous with refugee camps.
The 188-square-foot, weather-proof "Better Shelter" was announced in March at the Dubai International Humanitarian Aid and Development Conference and Exhibition and can be easily transported as flat packs, assembled in approximately four hours without additional tools, with a life expectancy of around three years. They also come with a solar-powered lamp and cellphone charger.
UNHCR has already put in an order for 10,000, and they expected to distribute the shelters this summer.
Designed for refugees by refugees. The IKEA Foundation designed these innovative mobile homes with the help of refugees in East Africa and the Middle East. 
Their Better Shelter website describes the development process as democratic, saying "the prototype has been tested and improved by 40 refugee families in Iraq and Ethiopia whose experiences and needs have been at the heart of the development process."
Importantly, the shelters include lockable doors, which could play a large role in protecting women and girls from sexual assaults, which are tragically commonplace in refugee camps, where there is a dearth of privacy, protection or safety.
The hope is these homes will offer a sense of dignity to displaced families. In March, the IKEA Foundation's Jonathan Spampinato said on the group's official website, "We're incredibly proud that the Better Shelter is now available, so refugee families and children can have a safer place to call home."
The plight of refugees. As regional conflict has gripped the Middle East and ethnic infighting continues in large swaths of Africa, the refugee crisis has become an unavoidable problem that's only going to get worse. 
UNHCR estimates approximately 4 million people have been displaced by the Syrian civil war alone, with a quarter million in Iraq and, in 2014, 15.1 million throughout Africa. 
These innovative and cost-effective collaborations should be prioritized in order to offer, at a minimum, millions of people across the world safety both from harsh weather conditions and opportunists who assault the vulnerable. 
Efforts to end the violence, wars and instability that have led to this refugee crisis should of course be prioritized too, but endeavors of this scale take much longer than it does to build a home for a family who has nothing.