Watch John Oliver and Michael Bolton Sing About the IRS as "the Anus of Our Country"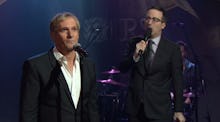 John Oliver may be English, but it doesn't take an American to know how much U.S. citizens hate the Internal Revenue Service this time of year. With the deadline to to filing taxes coming on April 15, hatred of the IRS is at a fever pitch. Leave it to the always unconventional Oliver, then, to mount a defense of the loathed agency.
This was a difficult task, of course, and one Oliver needed a little help to accomplish. Luckily, he had Michael Bolton to help him sell his ode to "the anus of our country" in the form of a song. Bolton reworked his hit song "How Am I Supposed to Live Without You?" into a plaintive tune with a verifiable message behind it.
"We need you real bad / Though it's clear nobody really likes you," as Bolton puts it. "You're the anus of our country, don't you know?" It's a silly line, but he and Oliver actually push the metaphor: "You never miss your anus til it's gone," Bolton sings. 
Oliver interjects with a bit of spoken word over the bridge, going even further: "We need you like we need our own anus. Like our anus, we may not love you, or want to talk about you. But deep down, we're glad you're there."
Oliver's anus-unrelated point is a solid one: The real fault lies not with the IRS but with Congress for creating the laws the IRS must enforce. Without the IRS, the country falls apart, and Congress cutting the agency's budget is a dangerous move. Seeing the IRS fall apart might seem like occasion for a round of "Ding Dong! The Witch Is Dead," but that's just ignoring how much America really needs it.
Bottom line: Paying taxes may not be fun, and the IRS may be a pain in the ass, but it's better to have them around as the butt of our jokes than drain them of funds altogether.
Watch the full clip below (song starting at 13:37):