17 #BrownAndProud Tweets Show What America's Future Looks Like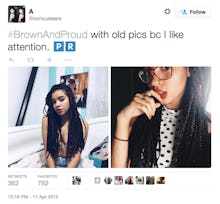 America makes it easy to forget that its racial history is more than a tale of black and white. Though the nation's anti-black track record may be its defining racial characteristic — from slavery and Jim Crow to the more recent string of police murders from Ferguson, Missouri, to North Charleston, South Carolina — it's important to remember that indigenous people, Latinos, Asians and others have played a dramatically overlooked role in how we define what it means to be a citizen of this country.
On Saturday, young people across Twitter reminded everyone what America really looks like. Inspired by March's #Blackout tweets — in which black users flooded social media with selfies and photos expressing racial pride through heightened visibility — Hispanic, Asian, Native and multiracial people tweeted a similar series of images under the hashtag #BrownAndProud.
Vocativ reports that the conversation spilled over to Tumblr as well, providing multiple outlets for teenagers of color to express their pride, love and even "detail their ... struggles with racial identity and self-esteem." 
Here are 17 examples:
The Real Future: This conversation is part of a larger shift across the U.S. By 2050, the Pew Research Center projects, as many as 29% of Americans will be Hispanic — up from 17% today — while the Asian share of the population stands to grow from 5% to 9%. 
Add that to a black population that is projected to grow from 12% to 13% by 2050, and whites will soon make up less than half of Americans for the first time since the colonial era. The changing stats make it clear that the way we'll talk about race 35 years from now will be decidedly different than the way we talk about it today.
But history is only part of this narrative. Young people of color are the literal future, and their voices, struggles and stories must be heard now in order to guide America toward an era that will be increasingly determined by them. #BrownAndProud is exactly the kind of conversation that needs to happen right now — a reminder of what America is becoming, and a means of exposing how far we still have to go toward understanding its implications. 
We'd be foolish not to listen.
h/t Vocativ