A Sandwich Shop Owner Had the Perfect Response When Someone Was Going Through Her Trash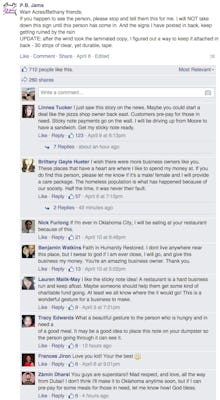 Facebook
Often when people go through trash outside restaurants and supermarkets looking for something to eat, the cops get involved, leading to arrest or fines.
But when the staff at sandwich shop P.B. Jams in Warr Acres, Oklahoma, found out someone had been going through their trash, management reacted differently — by posting the following sign on their front door asking the dumpster diver to come in for a free sandwich, vegetables and a drink.
The text reads:
To the person going through our trash for their next meal,
P.B. Jams owner Ashley Jiron told local news station KFOR, "Last week, I had noticed some bags, when I had taken out the trash, were torn open and some of the food was taken out. ... That really, it hurt me that someone had to do that."
As her sign said, that person is "a human being, and worth more than a meal from a dumpster." She added, "I will not take down that sign until they come in."
Jiron also posted a message about the note to Facebook, where it was met with overwhelmingly favorable feedback:
Taking the right approach: Jiron's act of good will is praiseworthy, especially because many of her fellow citizens are going through tough times. Oklahoma is a chronically poor state with high poverty rates. According to Oklahoma Watch, in Oklahoma County where Warr Acres is located, 18% of citizens experience food insecurity. Among children, the number rises to 24%.
While poverty rates in Oklahoma have declined dramatically in recent decades, the recession hit the state hard, sending the number of officially poor Oklahomans to 10-year highs in 2010. Despite the rough economy, food aid was cut in 2013. That same year, Republicans in the state legislature passed a "reform" measure requiring all able-bodied Oklahomans to work 20 hours a week or lose their Supplementary Nutrition Assistance Program benefits.
Oklahomans shouldn't have to rely on charity to get by. If more people cared like Jiron does, though, they probably wouldn't.
h/t BuzzFeed