This New Horror Film Shows How Terrifying Online Bullying Can Be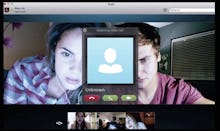 In the 21st century, the most terrifying skeletons aren't supernatural, but the ones in our Internet closets. That's the premise of Friday's new horror release, Unfriended, set on the anniversary of a fictional teenage girl's suicide. The girl, Laura Barns, killed herself after an embarrassing video of herself was posted to the Web, which her classmates used to cyberbully her.
The film takes place entirely on a computer screen as a group of friends Skype with an unfriendly intruder: someone using Laura's account. Demanding to know who posted the video of her, "Laura" begins psychologically and physically torturing the teens she holds responsible for her fate. Sounds scary — about as scary as online bullying can be for its victims.
The shooting style of the film is an emerging form, but director Levan Gabriadze pushed it even further. Instead of cutting together separate takes of performances on Skype, Gabriadze had each actor perform the film in one take. Not individual performances in one take: The 80-minute film was shot in one take. As /Film reported from Unfriended's WonderCon panel, there were touch-ups and pick-up shots placed in the film later on, but the bulk of the movie was taken from that shooting style.
That fact elevates Unfriended a bit beyond the computer-screen-only form. The style is also new, but there are a couple of well-documented examples in recent years. Modern Family shot an episode this season in that style, using only iPhone and iPad cameras. Less famously, a short film called Noah played at the Toronto International Film Festival using the screen-only style. (The film, viewable below, contains some nudity and is NSFW.)
Source: Rope of Silicon
Noah, about a teenage guy who gets broken up with by his girlfriend, explores the format well. The protagonist (named Noah, naturally) keeps getting distracted from their Skype conversation by porn and online games. After they break up, he turns to ChatRoulette to take his mind off things. It's a beautiful film that plays with the conventional understanding of how social media connects people. Even face to face with his girlfriend, other windows keep getting in the way. Instead of stepping away from the computer after they end things, Noah burrows further into his Internet hole.
Yet Noah doesn't play the protagonist's Internet fascination as unusual or unhealthy, merely a fact of life. Unfriended takes a much harsher tack with its portrayal, pointing out cyberbullying as a specific instance of why the Internet is terrifying.
"Kids are very mean and very ruthless," Gabriadze said in an interview with Yell magazine. He had his own experiences being bullied growing up, but the introduction of cyberbullying since has made things all the worse. "Now kids have different challenges; everybody can be bullied and anyone can be bullies themselves. It's scary."
Focusing the film on cyberbullying creates an intriguing metaphor. The true horror isn't the punishment "Laura" inflicts on her old classmates, but what they did to her. Her revenge may be more graphic, but the pain the embarrassing video and subsequent online comments about Laura inflicted was a quieter form of torture. It's all wrong, but the online torture is what needs to be called out. 
A real-life Laura Barns isn't going to come back from the dead to torture a cyberbully. But a real-life cyberbully could easily drive someone to suicide. It not only could happen, it has; just ask the family and friends of Tyler Clementi. If there's any lesson to be learned from a wild, experimental, well-reviewed horror film, it's that we can and should always do more to stop real horrors like this.