This Haunting Art Project Reminds Us That Gun Violence Victims Are More Than a Statistic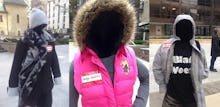 Every year, 32,514 people die from gun violence, according to the Brady Campaign to Prevent Gun Violence, and 2,677 of them are children under the age of 20. That works out to 89 people (seven of them children and teens) every single day. With all these larger statistics flying around, it's easy to forget that these number represent real people who lost their lives to gun violence.
To remind us of the human element of these tragic shootings, on Friday the Illinois Council Against Handgun Violence launched a powerful pop-up exhibit in Chicago called "The Unforgotten." The exhibit features lifelike, faceless statues based on those who have been killed by gun violence. Some of them are even wearing the victims' clothes.
The artists studied those who lost their lives, looking at photos and videos and talking to their loved ones, to best capture them in the exhibit. 
While the figures do embody the deceased, they have no faces to remind passersby of the loss. Bonita Foster, whose 15-year-old daughter Porshe was killed two years ago, told RedEye Chicago, "It does [convey] the message that my daughter was once here and she is no longer here."
"The overriding idea behind this came from the fact that the media spends so much time talking about stats and then you always hear about the shooter, but not much time is ever spent on the victims," Dion McGill, program manager for ICHV, told Mic.
McGill described the families' response the first time they saw the statues, saying it was an emotional experience and everyone's reaction has been overwhelmingly positive. As a testament to the artists' attention to detail, one young man's father "immediately said, 'That's so Blair. That's how Blair stood.'"
This is a problem for all of us. Chicago has one of the highest homicide rates in America, but across the country, more than 100,000 people are shot by guns every year. A study on school shootings found that from 2012 to 2014, more than three school shootings happened on average per month. Despite these recurrent tragedies, no real headway has been made with gun control.
In fact, things are moving in the opposite direction. Pro-gun lobbying has influenced the Senate, the House of Representatives and presidential campaigns by spending roughly $81 million dollars since 2000. The National Rifle Association spent as much as $15 million alone opposing President Barack Obama's 2012 reelection campaign.
Even in the wake of mass shootings, like at Sandy Hook Elementary School in Newtown, Connecticut, the gun lobby has held its ground and admonished any calls for stricter gun control. After Sandy Hook, PBS reports, gun rights advocates spent almost $10 million more than those fighting for gun control and nationwide there were almost double the number of gun rights laws passed than gun control laws.
An initiative like "The Unforgotten" is a powerful and novel way to inspire ordinary Americans to fight for tighter gun control. It is only too easy to see this problem as a collection of numbers and figures, but being reminded of the human cost we pay for not doing anything will hopefully inspire more to stand up to lobbyists and set our national priorities straight.
h/t RedEye Chicago
Correction: April 15, 2015