This Fox Sports Correspondent Destroyed Her Own Company's Sexism On the Air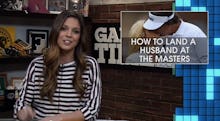 Fox Sports is not exactly known as the place for feminist commentary, but Katie Nolan, host of the show Garbage Time had to address an antiquated story featured on a fellow Fox site.
On Sunday's episode of her Fox Sports 1 show, Nolan took another Fox Sports outlet, Outkick the Coverage, to task for the April 9 article, "How to Land A Husband at the Masters" by Rebecca Johnson. The article, as one may surmise, advised women to act like a lady to bag a husband.
Reacting to the post, Nolan dryly asked, "As a woman, I always find myself wondering, 'Gee, how can I enjoy a major sporting event in a more woman-y way'?" Johnson, Nolan sarcastically said, is "just trying to help aimless young females in our all-consuming, never-ending quest to find that husband."
Nolan then helpfully walked her viewers through Johnson's advice. The first helpful tip? "Smile and have fun. No one wants to approach a girl with a scowl on her face."
That's just the tip of the sexist iceberg. Nolan went through the rest of the advice, which may have better suited the pages of a 1950s women's magazine than a 21st century sports website. 
According to Johnson, women should "dress appropriately" — meaning they must avoid "cleavage" as well as Lily Pulitzer garments because "guys aren't into that." They should also stay on the prowl and "be seen" because, as the author puts it, "You aren't there for the golf."
"Sure, not every woman goes to sporting events to find men," Nolan sarcastically conceded. "But 2 to 3 percent of women do and they deserve to have articles geared towards their interests on sports websites that they'll never visit just in case they end up there by accident."
Nolan's critiques didn't end with Johnson's story. She also made jabs at Fox News for its disappointing history of editorial choices. 
"On the surface the post might seem like it exists for no reason other than to stir up controversy, but I don't think a blog on FoxSports.com would do that," she said, as the headlines of other offensive stories — including "13 Ways to Keep Your Husband Happy" — appeared on the screen. 
After this thorough critique, Nolan offered her own advice about how to land a husband at any sports event: Her secret? "I don't know, I'm not married," she said. 
Nolan isn't the only Fox employee to boldly critique her co-workers sexist ways. Fox News host Megyn Kelly has called out her colleagues for their own antiquated comments about female breadwinners. These women are not only calling out sexism directly, but they're proving it can be done even in the most conservative or male-dominated spaces — like sports and conservative media.
h/t The Daily Dot