Sarah Silverman Has the Perfect Message For All Women Everywhere on Equal Pay Day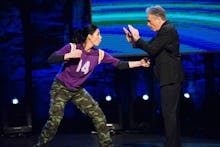 Your taxes aren't due until Wednesday, but April 14 is Equal Pay Day, which encourages women to do their part in closing the gender gap by asking for a raise. It's a practice women as successful as comedian Sarah Silverman have had to do.
Silverman recounted the time fellow comic Todd Glass mentioned how much he was paid after they each performed 15-minute stand-up sets at the same New York City comedy club one night: "He just got $60, and I just got $10. We did the exact same time, back to back, on the same show," she said in a video by Levo's Ask4More campaign. "It's pretty shitty."
The wage gap is real. Some say it's a cultural myth, but because talking about salaries is considered a workplace taboo, many women don't realize they are being paid less than their male colleagues until it comes out in conversation. That's what happened to Silverman. 
While the figure varies by state, the average difference in wages between male and female workers in the U.S. is $10,876. If you're a woman of color, it gets even worse: White women earn an average 78 cents to men's $1; black women 64 cents and Hispanic and Latina women 54 cents, according to 2014 data from the American Association of University Women. 
Reps. Carolyn Maloney (D-N.Y.) and Cynthia Lummis (R-Wyo.) may have the most promising effort to revive the Equal Rights Amendment in Congress with a bipartisan measure demanding equal pay for equal work, but in the meantime, Silverman points out, there is still a profound psychological stigma rooted in the history of this inequality. 
The consequence is that women feel a lot of pressure to be perfect: When women fail, they are often denied a second chance. But men get to fail, over and over again; they are more likely allowed to take risks without the fear that failure will end their careers entirely.
Silverman advises women to use the day to speak up with friends and colleagues in person and on social media about the gender wage gap, and their own salaries. Silence changes nothing, and in America, thankfully because of the First Amendment, women have the right to speak up about gender-based injustices. 
And, Silverman observes in the video, we know we're creating change when we get blowback.
Equal Pay Day prompts women to "ask for more." Women have this right to talk about what they earn at work, and it is illegal for employers to force employees into silence. At the very least, asking for more will encourage a sense of self-worth. 
And that's a start. 
Watch Silverman's full video:
h/t Marie Claire