Janelle Monáe's Response to Criticism About How She Dresses Was Astoundingly Brilliant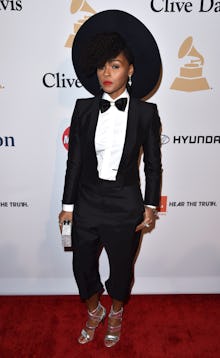 Janelle Monáe wears suits. And she'll keep wearing them, regardless of what anyone thinks. 
Still, one concerned gentleman on Twitter Sunday evening advised Monáe to step out of her trademark black-and-white suits for a change, as the singer prepared to release her latest track, "Yoga."
"Girl stop being so soulful and be sexy," the user wrote; "tired of those dumbass suits. You fine but u too damn soulful man."
But the Electric Lady herself would have none of it. In response, Monáe made it clear that she could care less about what random men think of her looks:
Soon after, the fan apologized and deleted his tweet. 
Her suits are more than a fashion statement. The suits and tuxes have long represented Monáe's signature look, but as she tearfully explained while accepting an award at BET's 2012 Black Girls Rock! special, it's more than a fashion statement. 
"When I started my musical career, I was a maid," she told the audience. "I used to clean houses. My parents, my mother was a proud janitor. My stepfather, who raised me like his very own, worked at the post office and my father was a trash man — they all wore uniforms. And that's why I stand here today in my black and white and I wear my uniform to honor them." 
She also used the moment to send tell girls to "embrace what makes you unique, even if it makes others uncomfortable." 
Right on, Janelle.
Why does it matter that she's "sexy?" Monáe is quite capable of deciding what she'll wear in public without men having a say. In fact, during her 2015 appearance at Black Girls Rock!, she donned a black and white dress instead of a suit. In either case, her wardrobe decisions are hers alone.
Monáe is a musician. It's the music that should matter most. Unfortunately, that's not the reality for women, especially those in the public eye, who constantly endure criticism about their weight, their hair, their makeup, what they wear and other facets of their appearance that have nothing to do with what's made them renowned and successful. Sometimes the criticism comes from other women, but too often that pushback comes from men who feel entitled to tell women how they should look or behave.
Men would do well to take a cue from Monáe: Women in public spaces don't exist for mere titillation and entertainment.