Rebel Wilson's Outfit at the MTV Movie Awards Sent Girls an Amazing Body-Positive Message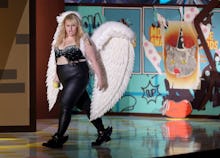 We can always count on comedian Rebel Wilson for hilarious doses of truth — this time, her inspirational message about body positivity came in the form of an irreverent getup at Sunday's MTV Movie Awards.
Wilson confidently strut on stage in leather pants, a bra and a set of wings clearly meant to mirror those worn by Victoria's Secret Angels. 
If viewers couldn't tell from the big wings, Wilson's parody of Victoria's Secret's objectification of thin models became clear when she turned around to reveal the word "Think" emblazoned across the back of her outfit — an obvious dig of the company's "Pink" brand. 
"I think one of the messages is that we are all beautiful and sometimes girls look at Victoria's Secret models and think to model themselves after that," Wilson told New York Daily News's Confidenti@l. "I really don't think that is the best. Even though they are called models, they are not the best people to model yourself after, and I would like to encourage other girls to think like that." 
Wilson has never had a problem publicly rejecting normative beauty standards. "I don't really care what I look like that much," the actress told Extra in 2013. "And I think that women out there should just be happy with how they look and they shouldn't really try to conform to any stereotype. Just be happy and hopefully healthy." 
Wilson's outfit choice may not have been far outside of the realm of her personal comfort, but it's certainly a rare sight in an industry that humorlessly objectifies female performers. Hopefully Wilson inspires other entertainers to follow in her footsteps, and question the status quo in similarly clever ways.