Here's How Much Attending a Wedding Actually Costs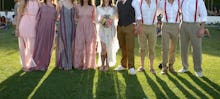 $673.
That's how much the average wedding guest will spend for the honor this year, according to the annual American Express Spending & Saving Tracker. That's up from the average of $592 last year and nearly double the cost of $339 in 2012, MarketWatch reports.
There are a ton of us paying up. American Express estimates 79 million Americans will attend nuptials in 2015, up from 67 million in 2014, according to American Express. 
What are we spending all that money on, besides questionable chicken marsala and odd-colored tulle? "The lion's share of that cost goes to airfare ($225 per person, up 125% from 2014), hotel accommodation ($170, up 86%), dining out ($116, up 90% over the same period) and dressing up ($95, up 53%)," according to MarketWatch. The Spending & Saving Tracker surveys generally focus on an affluent demographic defined by a minimum annual household income of $100,000.
The costs skyrocket when you're in the wedding party. Bridesmaids and groomsmen will foot a bill of $701 per wedding this year (not to mention the emotional toll of spending an evening dancing in an ugly dress or tux). 
Are you serious? While we may love our newlywed friends, the rising costs of supporting them are feeding growing disdain. After all, with $673, you could pay a month's rent in Tulsa, get a round-trip flight to Cancun or buy an Apple Watch. Each engagement and wedding season, we can sense the flood of smiling couple photos being met with an equally strong flood of cynicism — so much so that Jezebel has dedicated a vertical to complaints and critiques of the wedding industry.
That site's Kelly Faircloth noted, "Many [wedding] invites are basically a request to spend a luxurious weekend getaway's worth of time and money on someone else's event."
Or spend an actual weekend getaway. Invitation recipients are also rolling their eyes at the dreaded destination wedding: 72% of American Express survey respondents thought that destination wedding was way too expensive, and 62% didn't want to have to use their precious vacation days for someone else's vows.
Just saying "no": One way of avoiding crazy wedding guest costs? Avoiding pricey weddings in the first place. The Knot's 2014 Real Weddings Study found that the average wedding costs $31,213. Weddings are getting so complicated, couples are hiring professionals (including bridesmaids-for-hire) to make sure their extravaganzas go off without a hitch.
If brides and grooms are spending so much, guests will likely find themselves shelling out even more money to attend. According to a poll by American Consumer Credit Counseling, 43% of Americans who had to check "no" on a wedding RSVP card said it was because of financial worries.
It's a celebration, not an expenditure: Having fewer guests standing around you at the altar because of high costs arguably misses the whole point. A 2014 study from the University of Virginia found that couples who have more wedding guests often experience higher quality marriages. Having that support from friends and family might be more worthwhile in the long run than those wood-and-lace wedding invitations or that once-in-a-lifetime destination wedding in Capri. 
And not asking your guests to fork over huge amounts might be the best way to tell them that their presence is more important than the other trappings of the day.
"I spent over $2,000 as a bridesmaid in my friend's wedding," Lynn*, who went cross-country for a wedding last year, told Mic. "She was lovely and gracious throughout the whole process, and her wedding was the most fun one I've ever attended, but while I happily participated, I can still think of so many ways I'd rather spend $2,000."
*Name has been changed to allow subject to speak freely on private matters.