John Legend Just Took On One of America's Biggest Problems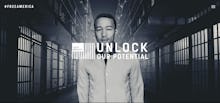 When John Legend accepted the Oscar for best original song in February, he didn't use the moment to thank his collaborators, his mother or God. He spoke about mass incarceration: "We know that right now the struggle for freedom and justice is real," he said, in accepting the award with Common for "Glory." "We live in the most incarcerated country in the world. There are more black men under correctional control today than were under slavery in 1850." Two months later, Legend is turning his words into action.
Legend launched on Monday the campaign #FreeAmerica, which seeks to stem the rise in mass incarceration. Legend will perform Thursday at a correctional facility in Austin, Texas. Afterward, he'll take part in a press conference attended by state legislators to encourage them to take legislative action.
"We have a serious problem with incarceration in this country," Legend told the Associated Press. "It's destroying families, it's destroying communities and we're the most incarcerated country in the world, and when you look deeper and look at the reasons we got to this place, we as a society made some choices politically and legislatively, culturally to deal with poverty, deal with mental illness in a certain way and that way usually involves using incarceration."
The #FreeAmerica website shares some of those statistics: 7 million Americans are under correctional control, at a rate that's increased "700% in the past 40 years, despite crime rates falling dramatically."
The American Civil Liberties Union confirms the percentage increase that Legend's organization shares; ACLU documents dive deeper into the racial inequality of our prison system. "We incarcerate young African-American men at a rate of 1 in 9 — higher than any other group of Americans," the ACLU reports. And prisons incarcerate Latin American men at "twice the rate of their white counterparts."
At the end of the month, Legend is scheduled to host a #FreeAmerica event in Washington D.C., alongside Politico. According to the Daily Beast, Alison Holcomb, the director of the ACLU's national campaign to end mass incarceration, or Jill Harris, her deputy director, will join Legend.
"He is definitely out in front on this issue," Holcomb said of Legend, the Daily Beast reported. "We certainly hope there are other celebrities who will join him."
Legend has long been one of the most socially and politically active celebrities. In 2007, Legend previously tackled the incarceration issue from a different angle, advocating for universal access to education through his Show Me campaign. The campaign aimed to break the cycle of poverty through education, allowing underprivileged children to buck the statistics that might land them in prison. In December 2014, Legend wrote for Billboard encouraging people to demand reform for the justice system in the wake of Eric Garner and Michael Brown's murders. 
"Today, I am part of a generation of artists who benefit from unprecedented access to our fans," Legend wrote. "Tools like Twitter and Facebook act as a megaphone, allowing us to speak directly and powerfully to millions of people. Yet our actions, or lack thereof, speak louder."
Legend's actions through #FreeAmerica seek to create legislative change. He's already celebrated California's Proposition 47 — which will treat petty crimes such as shoplifting, forgery and small amounts of drug possession as misdemeanors instead of felonies, according to the Associated Press — as an early victory. He sees it as incredible first step. "Getting those reduced to misdemeanors really impacted a lot of lives, and we hope to launch more initiatives like that around the country," he told the Associated Press. 
Hopefully, this is only the beginning.