One Year After Boko Haram Abducted 276 Schoolgirls, They're Still Waging Mass Violence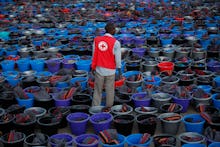 Tuesday marks one year since Boko Haram militants swept into the northeastern Nigerian town of Chibok and kidnapped more than 276 schoolgirls, most of whom were between 16 and 18 years old. The incident catapulted Boko Haram, an Islamist terrorist movement whose name loosely translates to "Western education is forbidden," into the world's consciousness. 
The reaction was swift and immediate. Amnesty International and UNICEF condemned the attack, and numerous countries such as the United States, Britain and Canada pledged to help find the girls. #BringBackOurGirls became an international campaign that drew attention to the attack, and everyone from Emma Watson to Michelle Obama participated.
But one year later, Boko Haram continues to carry out mass violence. Not only are 219 of the 276 missing schoolgirls still unaccounted for, the militant group has continued its campaign of terror in other ways.  
According to a UNICEF report released Monday, roughly 800,000 children have been forced to flee their homes in northeast Nigeria because of violence between Boko Haram and various defense forces. The number of displaced children has more than doubled in less than a year, according to UNICEF, and young Nigerians are being used by Boko Haram as "combatants, cooks, porters and look-outs." Women and girls are victims of forced marriage, labor and rape.
An Amnesty International report released at the one-year mark of the kidnapping further showed the scope of Boko Haram's terror. According to the report, at least 2,000 women and girls have been taken by the group since the beginning of 2014 and have been "imprisoned and in some cases raped, forcibly married and made to participate in armed attacks," while men and boys are "regularly conscripted or systematically executed."
"Through a campaign of almost daily killings, bombings, abductions, looting and burning, Boko Haram crippled normal life in northeast Nigeria ... [it] committed war crimes and crimes against humanity," the report concludes.
The situation is rapidly deteriorating. The Nigeria Social Violence Dataset, based out of Johns Hopkins University, estimates that the group was responsible for more than 5,000 killings in 2014. 
"The insurgency in Nigeria's northeastern states is growing into one of the largest areas of violence in Africa, and a major conflict in global terms," Johns Hopkins' Nathaniel Allen, Peter M. Lewis and Hilary Matfess wrote in the Washington Post in October 2014.
For all the conflict, the response has been slow. On Tuesday, Nigeria's President-Elect Muhammadu Buhari said he couldn't ensure the safety of the 219 still-missing Chibok schoolgirls. "We do not know if the Chibok girls can be rescued," he said in a statement, according to the Associated Press. "Their whereabouts remain unknown. As much as I wish to, I cannot promise that we can find them." 
While Buhari's candor is a considerable change in tone from former President Goodluck Jonathan, who made "hollow promises that [the girls] would be rescued," as the Associated Press put it, his honesty will likely do little to comfort the families of the missing girls.
#BringBackOurGirls, meanwhile, has receded from view. As Mic reported in October, public interest in the campaign, a particularly visible example of hashtag activism, has faded. It's in stark contrast to the actual violence in the region, which has been steadily increasing.
The one-year mark of the attack gives us good reason to remember that the disappearance of a hashtag does not equate to the disappearance of the conflict that triggered it. 
The world may have shifted its focus to other conflicts, but that doesn't mean Boko Haram has stopped waging a terrible war against an innocent population.