Today's "Hookup Apps" Actually Owe It All to One Old-School Website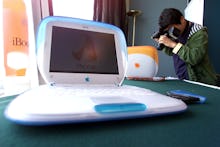 It's become a common thread: Only a few years ago, dating started by locking eyes across a bookstore or catching a smile in a crowded subway. But the era of OkCupid and Tinder has irrevocably altered modern dating, replacing meet-cutes with right swipes and real dates with profile perusing, tools that have revolutionized how people date and mate.
At least that's the story we tend to hear, bolstered by evidence like Tinder's 50 million monthly users and Grindr's 10,000 new signups a day. But what we call modern might not be so new. In fact, to appreciate the Tinders and the Grindrs of the world, we need to trace it back to a humble predecessor that started it all with just Times New Roman text and a whole lot of honesty: Craigslist.
Bringing sex to the Internet: When Craigslist started in 1995 as an email mailing list in San Francisco, the guiding motto was "doing well by doing good." That motto turned out to be rather prescient: As the site started connected buyers and sellers for products and services, it also ended up connecting individuals, through its "casual encounters" section. 
With a no-frills layout, near-anonymous profiles and endless options, the site encouraged openness and exploration — and became a place for LGBT daters in particular to find each other, especially once the site spread to cities beyond San Francisco starting in 2000. As the Advocate marveled in 2005, "It is free. It is uncensored. It is anonymous. No wonder it's growing by leaps and bounds, and no wonder it's particularly embraced by gays and their prospects." 
The anonymity made space for a refreshing level of honesty between strangers. Deborah, who identifies as transmasculine queer, told Mic that she first found Craigslist appealing because it offered a "cruising area" where she could state exactly what her desires were, thus "eliminating too much negotiation on both sides."
"I would put an ad on the San Francisco Craigslist for casual connections and very quickly and easily I made a date with a femme for my trip out there," she said. 
Brock, a gay man, told Mic he appreciated the site's specificity when it came to sexual desires. "I was looking for a dominating masculine guy who would be able to satisfy my rather dark fantasies that often include equipment," said Brock. "So what I had to do was niche down and go online — he wouldn't be waiting for me at a coffee shop or at the gym." 
Experimenting was and remains another Craigslist function. As Esther, a transgender woman, told Mic, "Finally I found a place to chat to other single gender-nonconforming people. I even tried on a different sexual persona and asked erotic things I've always wanted to ask about transbodies and fantasies just because I could." 
Craigslist's candid environment also brings people together for more than sex — like Tinder today, a "hookup" platform can lead to dating and even marriage.
"Olaf and I really opened up on Craigslist's M2M connections section and typed to each other for a long time until we eventually met up," Marcus, a gay man, told Mic about meeting his current partner. "I thought it would just be for sex, but we just fell in love at first meeting." 
From "Casual Encounters" to hookup apps: The ability to connect people who might not have met otherwise and facilitate real-life meetups for sex or dating? Yeah, that sounds familiar. What made Craigslist so valuable in the '90s and early 2000s remains the main function of just about every dating service we have today — including Grindr.
"The goal of Grindr is to meet other guys in person, and there was a time when Craigslist was one of the best ways to do that," Joel Simkhai, CEO and founder of Grindr, told Mic. 
What Grindr has been able to do for the next generation of gay Internet daters reflects a much-changed dating environment, however. As Simkhai attested, today there's less of a need for anonymity. 
"With Grindr, we refined the process of online meetups to be simpler and faster by utilizing a focus on image-centric profiles and geolocation technology to provide the quickest avenue for users to connect in person," Simkhai said. The anonymity of Craigslist profiles, Simkhai continued, are better suited for one-off dealings and less for dating.
That kind of improved technology and the subsequent boom in the dating market have eaten into Craigslist's popularity as platform for dating and sex. But so has the fact that more LGBT daters are out of the closet and gay dating itself is no longer centralized in spots like gay bars. 
That said, Craigslist is far from obsolete. For LGBT daters with limited local dating pools, it's still a solid option. "I use apps for sexual fun when I am traveling for work, and usually it is easy enough to meet someone for an hour of play," Dave, a gay man, told Mic. "But some places in the world have zero coverage, like Egypt and even Istanbul, so I often have to look for an alternative." 
Unfortunately, the need for anonymity is still a reality for many. In fact, a look at Craigslist user data in 2013 by the New York Times' Seth Stephens-Davidowitz found a correlation:
 I analyzed ads for males looking for "casual encounters." The percentage of these ads that are seeking casual encounters with men tends to be larger in less tolerant states. Among the states with the highest percentages are Kentucky, Louisiana and Alabama.
Like Simkhai told Mic, Craigslist still fills a niche by "allow[ing] for anonymity and the ability to fulfill a wide range of people's needs and desires."
As the dating market grows more and more saturated, the online dating world seems to be returning to its Craigslist roots with increasingly niche apps. We may want to see more profile photos these days, but our vast range of sexual needs and desires is one thing that will never change.