Fraternities Frequently Do Horrible Things. We Still Shouldn't Ban Them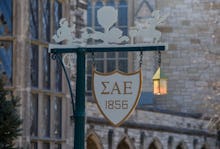 Comedian Will Ferrell said something last month that many have pondered recently: As fraternities across the country have become strongly associated with committing undeniably sexist, racist and violent acts, maybe it's time to consider "getting rid of the system altogether."
In fact, at least 30 fraternities have been shut down since the beginning of March in response to these behaviors. Plenty of other college administrations have also banned or limited fraternities' social activities  in various ways. But are these bans effective solutions?
Plenty of evidence indicates drastic action is necessary. Egregious acts like the University of Oklahoma's Sigma Alpha Epsilon chapter's racist chant, the Georgia Tech chapter of Phi Kappa Tau's infamous email guide to "luring your rapebait" and countless others constantly make headlines. Studies, such as the one that found men who join fraternities are 300% more likely to rape than their non-Greek affiliated counterparts, also point to the necessity of intervention.
The National Association of Insurance Commissioners ranks fraternities as the sixth worst insurance risk in the country, just behind hazardous waste disposal companies and asbestos contractors, according to attorney Douglas Fierberg.
So why do colleges and universities everywhere keep these organizations on campus?
Fraternities don't create sexist, racist or otherwise damaging mentalities or behaviors. But they do create safe havens for them to persist. Our society's deeply problematic, deep-seated understanding of American masculinity is largely to blame for these behaviors. Masculinity scholar Michael Kimmel argues in Angry White Men: American Masculinity at the End of an Era that the horrifying behavior often displayed by fraternity members isn't due to any specific group membership, but a broader sense of entitlement. As women continue to assert their right to equality and even outnumber men on campuses, young men attempt "to restore, to retrieve, to reclaim something that is perceived to have been lost," according to Kimmel. "Their sense of grievance depends on their sense of entitlement."
Racism and sexism aren't inherent to the Greek system, but Julia Dixon, Greek liaison to the organization Promoting Awareness, Victim Empowerment, told Mic that some might be attracted to the Greek system "thanks to the stereotypes we are known for. Perpetrators can sometimes find it easier to blend into houses with toxic cultures if they seek that out."
The lack of positive role models and supervision hardly helps either, said Jonathan Kalin, founder of the organization Party With Consent. "Eighteen-year-olds are proving their masculinity to 21-year-olds, which is clearly dangerous, as nobody's brain in this picture has fully developed," he told Mic. This hierarchy established among relatively homogenous peers allows sexism to not only go unchecked, which some fraternity members "take as an invitation to treat women as less than human."
Banning fraternities won't eradicate the issues themselves. Individuals outside of the Greek system also commit violent or otherwise offensive acts. Colleges without official Greek life — like Harvard University, for example — have still been investigated for failing to adequately address sexual assault cases. In fact, research shows that 9 out of 10 assaults are committed by a small group of serial rapists, not men belonging to any particular social group or organization. Fraternities neither create nor are predominately composed of rapists, but rather allow them a safe haven in which to act largely without consequence. 
What's more, banning fraternities will not prevent men who maintain these beliefs from coming together, especially as society continues to segregate spaces and activities like bathrooms and sports teams based on gender. The fact that underground fraternities have emerged on campuses like Middlebury College that have chosen to ban frats only underscores this point.
"Men will continue to self-select to come together with men in all-men groups," Kalin told Mic. "Getting rid of frats will not change that." 
Banning fraternities may even prohibit solving these issues. While he agrees there are serious, systemic problems within Greek organizations, Matt Leibowitz, founder of the organization Consent Is So Frat, argues that bans don't provide real solutions for broader change, and can in fact antagonize members. 
Recent legislation related to campus sexual assault put forth by the national organization Fraternity and Sorority Political Action Committee demonstrates this. The legislation, seemingly in response to the way fraternities are tied to assault, aims to make it impossible for colleges to suspend all fraternities on a campus based on actions committed by a single house or to force chapters to admit women, according to Bloomberg. 
Activists claim this legislation, which also includes a proposal requiring sexual assault survivors to report to the police before reporting to campus authorities, will make investigating rape allegations more challenging, while harming survivors and failing to address the real issues at hand.
Ultimately, the revolution must come from within. Dixon and Leibowitz are pushing back on this specific legislation through a Change.org petition. Yet they note that the true key to creating positive change won't be found in a cycle of accusations and defense, but by empowering fraternities to seek a more constructive solution based in education.
Groups of men can't be written off or simply told to change, according to Leibowitz. Instead, fraternity members must work hard to educate each other and do better. The solution starts with posing difficult questions, like "'What type of culture do we create?' and 'How do we recognize that we can lead, but only when we listen and respect those who have led before us?'" Leibowitz said.
"I think all-men spaces are extremely powerful in their ability to flip the script on performing masculinity," Kalin said. When that's allowed to happen, there's no doubt systemic change is, in fact, possible.