Burka Avenger Is the Muslim Female Super Hero We've All Been Waiting For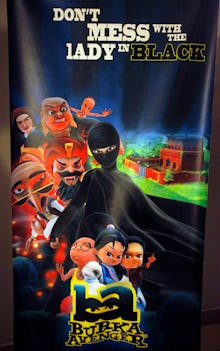 The Muslim world doesn't have the best reputation when it comes to female empowerment. With a lack of of strong, independent female role models, young women in the region have few places to look in popular culture for guidance. Until now.
Meet Burka Avenger, the game-changing Pakistani cartoon that, for the first time, has flipped the status quo on its head with its female superhero protagonist, who fights crime in her magical burka. 
The Burka Avenger is a teacher, Jiya, who in her spare time dons a burqa while fighting gender-based crimes and other evils, and she is the symbol of empowerment for girls across the Muslim world that many hoped would arrive. The Pakistani cartoon has been around since August 2013 and syndicated in Afghanistan, but Jiya is about to get a much larger audience in April, when the show launches in India on "edutainment" channel ZeeQ.
Originally broadcast in Urdu, the Indian version will be dubbed in English, Hindi, Telugu and Tamil, in order to maximize its reach. 
The woman in black: Burka Avenger has received worldwide acclaim for its success in reimagining and challenging what it means to be a Muslim woman or girl, from winning a Peabody Award to being nominated for an Emmy.
The show uses irony to captivate its audiences and convey larger themes. The subjugating burqa, which Jiya only wears at night to fight crime, is transformed into a symbol of empowerment as she fights villains with her own special martial arts, using books and pens, not guns or swords, as her weapons, and all with a silly twist — it is, after all, a kids' show.
Burka Avenger also takes on critical social issues of the developing world, such as the battle against polio. In Pakistan, militants have repeatedly murdered polio vaccinators, like Salma Farooqi, a mother of five, who was dragged from her home, tortured and shot in Mach 2014 for trying to vaccinate children against the virus.
Saving the day: Burka Avenger could not be more important for countries like Pakistan, Afghanistan and India, where gender bias is rife and girls are raised with few role models.
A recent Council on Foreign Relations report discovered that major indicators of gender equality, such as workforce participation, literacy levels and infant mortality for girls, paint a bleak picture. 
"[Pakistan's] skewed sex ratio of 108 men to 100 women is a reflection, in part, of higher female infant mortality and the overall more privileged treatment of boys," the report's authors write. "Given female biological advantage at birth, male mortality rates are expected to be higher than female rates."
Furthermore, Pakistan came second to last out of more than 140 countries in the World Economic Forum's 2014 Global Gender Gap Report.
Cartoon characters like Jiya, who reflect real-life symbols such as Nobel Peace Prize laureate Malala Yousafzai, the young girl who was shot by the Taliban for promoting girls' education, are a necessity in subverting repressive social systems, which disempower women. We can only hope this is a sign of things to come and more Jiyas and Malalas are on the way.