The Boy From the "Success Kid" Meme Is Helping His Dad Crowdfund a New Kidney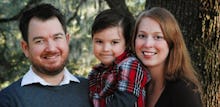 On Aug. 26, 2007, Laney Griner took a photo of her then-11-month-old son Sam. Soon after, the image of Sam, standing on a beach in a green and white shirt, staring into the camera and making a determined fist morphed into what would become the "Success Kid" meme, and achieved Internet fame in the process.
Now, the family is hoping to use Sam's Web persona to help his father Justin find a kidney donor.
Laney Griner set up a GoFundMe page for her 39-year-old husband, who was diagnosed with kidney disease in 2006, suffered from complete kidney failure in 2009 and is currently on dialysis, the Daily Dot reports. The family hopes to raise $75,000 to cover the cost of the transplant and have included a phone number with which to connect Justin to any potential donor.
"Please help us reach our goal so that Justin may get the pre-treatments and transplant he desperately needs," reads the campaign page, which launched Wednesday. "His mother died from this disease ... please help us write a different story for Justin and his son, Sam."
It's a unique case of a man who inadvertantly created a piece of Internet fame reaching out to the Internet asking for help in a time of need.
"One can only survive with no natural kidney function and using article kidney filtering for so long," Laney Griner told the Daily Dot. "His energy and mood are affected, he can no longer work, and he spends 12 hours a week in dialysis clinic ... The only way to save his life is to get a transplant. There's no other way around that."
While her son's Internet fame has helped to catapult the fundraising effort onto a much larger stage, Griner told BuzzFeed she initially resisted using the "Success Kid" meme because she wanted the campaign to be about her husband.
"But then I thought what a positive boost it could bring to our fundraising efforts for people to know this is for the father of the baby who has made so many people smile," she told the outlet. Over $36,000 has been raised as of press time. Griner did not respond to Mic's request for comment at the time of publication. 
Medicare will pay for the transplant and for dialysis treatments, but not for what comes after — "medicines and anti-rejection drugs one must take for life, some costing thousands of dollars a month," according to Griner.
ABC News reports that 101,707 individuals are in need of a kidney transplant in the United States, but the Griners are hopeful that Justin will find a match.
As the Daily Dot points out, it's appropriate that "Success Kid," the king of feel-good memes, is now being used to help his father find a kidney.
"We're the parents of 'Success Kid' for goodness sake," Griner told the Daily Dot. "If anyone understands the power, the mass and goodwill of the Internet, it's those of us lucky to experience it daily."
h/t Daily Dot