The Unlikely Story of How Bruno Mars Became a Pop Legend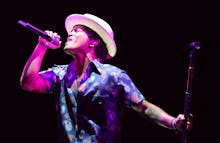 Before Bruno Mars was the kind of star who could make "Uptown Funk" a historic pop phenomenon, he was a record label toss-away. He'd begun performing at just four years old, but by only 19, he already thought he had failed at his dreams of superstardom. He'd been dropped by Motown, reduced to an unemployed DJ who struggled to fill his gas tank. Mars had almost given up on his dream of solo stardom. And then, through a string of quick star turns, he became an 13-time Grammy nominated musician in less than 10 years.
Mars' ascent to pop stardom may seem lightning fast, but it's something he's been primed for since he was a toddler. Stardom is inherent to Mars in a way few people can claim — he spent his childhood embodying the greats. He's an entertainer in the truest sense of the word.
Master classes. Mars heard music the moment he entered the world. According to Rolling Stone, his father lowered the lights in the delivery room and played "oldies but goodies" on a boombox while Mars' mother gave birth to him.
Born in Hawaii as Peter Hernandez, Mars is the son of a Jewish Puerto Rican father and a Brooklyn-bred Filipino mother. Mars' parents were both talented performers, a percussionist and singer respectively, who led a 1950s-style cover act called the Love Notes.
"From a very young age I remember watching the show and being completely fascinated," he told Blues & Soul. "You know, my uncle would be up there playing guitar, my dad would be up there conducting the whole show, my mom would be singing out. And I'd be like, 'I wanna go up there too!' So, from the moment my dad started allowing me onstage, I became a ham."
It was in the Love Notes that Mars perfected his act as one of the island's famous Elvis impersonators. When he was four years old, Mars appeared as Little Elvis in the movie Honeymoon in Vegas. That same year, Pauly Shore interviewed him on MTV, and at six years old, Mars had already been on guest on The Arsenio Hall Show.
"I don't remember much," he told GQ of his days as Elvis. "I probably couldn't even speak that much. But I was fucking great at it."
The name. The name Bruno Mars came to the performer in two acts: "Bruno" is from his father, who said that his chubby son looked like the wrestler Bruno Sammartino. "Mars" came later in life, after record labels said that his last name, Hernandez, would pigeonhole him into Latin music.
"The Mars came up just because I felt like I didn't have no pizzazz," Mars told Rap-Up. "And a lot of girls say I'm out of this world."
When Mars was about 11, his parents divorced and the Love Notes disbanded. Though they were flat broke, Mars' father taught his son how to play the guitar, and by the time he was a sophomore in high school, Mars was performing onstage solo. Among his first performances was a cover of Ginuwine's "Pony."
"After that, I walked around the halls like I was Sinatra" he told Rolling Stone. "I was like, 'OK. I'm not just an impersonator... I can also impersonate Ginuwine!'"
While he was still in high school, Mars dabbled again in musical impersonations, playing Michael Jackson for $75 a night while opening for a magic show called "The Magic of Polynesia." Needless to say, even though he earned a living, Mars didn't love the act.
"I was like a circus freak," Mars told Rap-Up. "I'd sing songs for all the tourists. It was always cover songs — everything from Chuck Berry to Usher. Then I got fed up, like I'm singing songs to a bunch of tourists that don't even speak English. I felt like I could do more."
Learning to write. Just after Mars graduated high school at 17, he bought a one-way ticket to Los Angeles, signing with Motown almost immediately. But the label was confused by his image, his name and his music. The gig at Motown lasted less than a year, but Mars said he's still grateful for the experience.
"I was too young," he told Rap-Up. "I had been doing shows my whole life. I had never really recorded, and never had too much experience recording, let alone producing. I had never written a song before. It worked out the way it had to work out because I needed to learn a lot."
And Mars' time at Motown wasn't a total loss: It was there that he met Philip Lawrence, a fellow musician. Just as Mars was seriously considering giving up his dream and going home to Hawaii, Lawrence contacted him about a songwriting partnership. The two joined forces with producer-songwriter Ari Levine, and the three became a successful production group called the Smeezingtons.
That was the group that taught him to write. In 2008, their big break came writing the song "Right Round" for Flo Rida, which hit No. 1 on the Billboard Hot 100. Among the other hits they worked on were Cee Lo Green's "Fuck You," B.o.B.'s "Nothin' On You" and Travie McCoy's "Billionaire." Mars was finally making a name for himself in the music industry, and he took that confidence with him to the offices of Atlantic records. The soon-to-be pop star performed for the label two songs that he'd written: "Nothin' On You" and "Billionaire."
"No one sells a song better than the person that wrote it," Mars told USA Today. "I put my emotion into that demo, and thank God they heard that and gave me my shot."
Stardom. Signed to Atlantic's Elektra label, in 2010 Mars released an EP called It's Better If You Don't Understand, and later that year followed up with his full-length debut, Doo-Wops & Hooligans. The LP earned two No. 1 spots on the Billboard Hot 100 with "Just the Way You Are" and "Grenade." The next song Mars released was "Locked Out of Heaven" in October 2012, the first single from his critically acclaimed album, Unorthodox Jukebox. 
Mars' list of accolades is seriously impressive for a 29-year-old, even given he's been performing since he was four. In 2011, Time magazine named him one of their Time 100; in 2013, Billboard declared him Artist of the Year; and in 2014, Forbes gave him the top spot on their music 30 Under 30. Oh, and there was that whole Super Bowl thing.
Now he's riding the wave of Mark Ronson's smash, "Uptown Funk," and Mars says he's going back to the studio to make a third album better than anything else he's done. "I want to write better songs, I want to put on better shows, I want to make better music videos," he told That's magazine in late March.
And Mars is so much more than just a pop fad. In a world where every news cycle brings another reminder of unrest, Mars helps us remember that music can make us happy for at least three and a half minutes. It's a good thing he gave up on Elvis, because no one else funks you up quite like Bruno Mars.