The U.S. Officially Removed Cuba from the Country's List of State Sponsors of Terrorism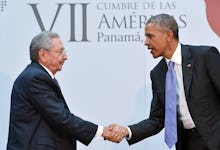 Budding ties between the U.S. and Cuba took a major step forward after U.S. President Barack Obama announced Tuesday he planned to remove America's communist neighbor from the State Department's official list of state sponsors of terrorism.
"We will continue to have differences with the Cuban government, but our concerns over a wide range of Cuba's policies and actions fall outside the criteria that is relevant to whether to rescind Cuba's designation as a state sponsor of terrorism," White House press secretary Josh Earnest said in a press release.
The news followed the historic meeting between Obama and Cuba's President Raul Castro on the sidelines of a Summit of the Americas meeting in Panama Saturday. Genial photos taken of the two leaders were the first of their kind in more than 50 years.
The two nations are also expected to restore full diplomatic ties that were severed in 1961. Recently U.S. airlines have announced upcoming flight service to Havana, and the popular travel service AirBnB has also begun offering Cuba listings.
The List. Cuba joined a very exclusive club when it was placed on the state sponsors of terrorism list in 1982. There are currently only three other members: Iran, Syria and Sudan. Cuba was officially included for "efforts to promote armed revolution by organizations that used terrorism," but has always objected to its place there, NPR reports. It might have good reason.
According to the State Department's brief official reasoning, "there was no indication that the Cuban government provided weapons or paramilitary training to terrorist groups." Further, the U.S. found that far from supporting terrorism, Cuba had actively worked in conjunction with the Red Cross to end major hostilities between Colombia and the leftist terror group FARC. 
On the other hand, Iran is currently propping up Houthi separatists in Yemen and providing weapons to Palestinian terrorist organization Hamas. Syria is the primary backer of Hezbollah, a terrorist organization with a decades-long history that includes bombing U.S. embassies and hijacking airplanes. And Sudanese President Omar al-Bashir's war against his own people in Darfur had led to hundreds of thousands of deaths and his indictment by the International Criminal Court. 
Instead of exporting terrorism, Cuba has far more experience exporting doctors. When Ebola broke in West Africa, Cuba was on the front lines of foreign aid sending hundreds of medical doctors to afflicted regions. Today there are an estimated 50,000 Cuban doctors working abroad, according data from the country's health ministry that was reported in the Guardian. U.N. Secretary-General Ban Ki-moon said of Cuba's response to the 2010 earthquake in Haiti that "they are always the first to arrive and the last to leave. They remain in place after the crises. Cuba can be proud of its health care system, a model for many countries," the Huffington Post reported.
After decades of official silence, and more than 20 years after the Cold War, Cuba is finally coming in from the cold. Everyday Cubans have already embraced the new relationship, and in a few years, Americans will probably be wondering why it ever took so long in the first place.