The Story of How Madonna Became Famous Will Make You Love Her Even More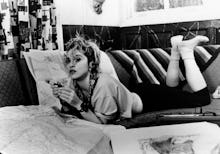 Madonna has been an icon for so long, it's easy to take her for granted. Too often, that's exactly what happens.
With 13 albums and a slew of the most famous singles and music videos of all time, she's been omnipresent in pop for over three decades. Out of the top eight best-selling musicians of all time, she's the only female. She's arguably the first female performer to ever have complete control over every aspect of her image, paving the way for every one of today's liberated female pop acts.
We should be talking about Madonna with the same reverence we discuss Elvis and the Beatles. Yet given the generally vicious response to the press push promoting her new album, it's clear many have lost sight of her legacy. Madonna fought like hell to build the career she has, scraping her way to the upper echelons from her days as a starving waitress in a closet of a New York apartment. She's earned her cultural ubiquity and deserves to be respected as the legend she is.
"Like a Virgin." Before becoming just Madonna, she was Madonna Louise Ciccone, born in a Detroit suburb, the third child of Silvio Tony Ciccone and Madonna Fortin. Her mother died of breast cancer when Madonna was only 5 years old. It was a massively traumatic event for the young girl, which some of her biographers assert she never quite reconciled. 
In a way, that tragedy may have fueled her drive. "You walk around with a big hole inside you, a feeling of emptiness and longing," Madonna once told CNN. "And I think a lot of times that's why you become an overachiever."
Madonna got straight A's in high school, eventually graduating early. As the eldest girl in a Catholic family of eight children, Madonna had to assume many of her mother's household responsibilities as she grew. "I saw myself as the quintessential Cinderella," she once said.
Madonna managed to escape through dance. In high school, she became deeply involved in a ballet academy in Rochester, Michigan. The school's instructor, Christopher Flynn, took an interest in her, and helped expand her education by taking her to concerts, art galleries and gay clubs in Detroit.
At those gay clubs, Madonna experienced a thrilling sense of liberation. "In school I felt like such a misfit ... Because I was a really aggressive woman, guys thought of me as a really strange girl. I didn't add up for them. I felt inadequate," Madonna told the Advocate in 1991, according to the Independent. "And suddenly when I went to the gay club, I didn't feel that way any more. I had a whole new sense of myself."
"I Love New York." The University of Michigan recognized Madonna's promise and offered her a dance scholarship in 1976. She attended for two years before she dropped out and moved to New York City to try to make it as a professional dancer.
"New York wasn't everything I thought it would be. It did not welcome me with open arms," Madonna wrote in a short memoir for Harper's Bazaar. "The first year, I was held up at gunpoint. Raped on the roof of a building I was dragged up to with a knife in my back, and had my apartment broken into three times. I don't know why; I had nothing of value after they took my radio the first time."
She worked odd jobs to pay her rent wherever she could find them: waitressing, dancing, posing as a nude for art classes — "Daring them to think of me as anything but a form they were trying to capture with their pencils and charcoal," she wrote for Harper's Bazaar. "I was defiant. Hell-bent on surviving. On making it. But it was hard and it was lonely, and I had to dare myself every day to keep going."
"Music." Madonna kept pushing, trying to make it as a dancer, but it was her voice that really turned heads. 
"People would hear me sing and they'd say, 'Hey, your voice isn't bad.' And I'd say, 'Oh, really?' " Madonna told CNN. "I mean, I never had any training. I never wanted to be a singer."
But she didn't pass up the opportunity. She joined a rock band and then formed her own in 1980, even earning a modest record deal. Eventually though, Madonna and Steve Bray, an old boyfriend, broke off from the band to write some '80s disco and pop tunes. Madonna shopped around one of these songs, "Everybody," as her first demo.
Eventually "Everybody" found its way into the hands of Mark Kamins, a New York DJ and producer. Kamins threw on the cassette in the club where he DJ'd "and it worked," he told the Independent. "I'm not saying the place went crazy, but it worked." 
Kamins helped Madonna produced an improved version and took that tape to Sire Records, who gave the singer her first solo record deal in 1982. Through Sire, Madonna released her self-titled debut in 1983. The album's third single, "Holiday," became her breakout hit when it landed in the Billboard's top 20. Her career was underway.
From there, Madonna did all she could to push artistic boundaries and challenge audience perceptions. She said "fuck" on national television, experimented with erotic and religious choreography — often at the same time — and pushed almost every sexual taboo she could think of.
That's something she's still doing to this day. She's taking aim at our culture's ageism. 
"Because women, generally, when they reach a certain age, have accepted that they're not allowed to behave a certain way. But I don't follow the rules. I never did, and I'm not going to start," she told Rolling Stone. "So if I have to be the person who opens the door for women to believe and understand and embrace the idea that they can be sexual and look good and be as relevant in their 50s or their 60s or whatever as they were in their 20s, then so be it."
The thinly veiled ageism she suffers is tame compared to some of the backlash she's brought upon herself over the years. And though her latest album is far from her strongest offering, it's still pushing into new artistic territory. Madonna has continually bounced back from worse, and she will again, because bitch, she's Madonna.