North Carolina Lawmakers Want You to Be Able to Carry a Concealed Gun Pretty Much Anywhere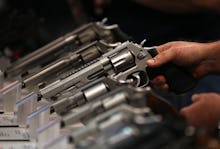 As the country continues to reel from the shooting death of Eric Harris by insurance executive-turned-reserve deputy Robert Bates, one North Carolina lawmaker wants to make guns even more prevalent.
Republican State Sen. Jeff Tarte introduced a bill last month that would allow permit-holding gun-owners to carry a concealed weapon anywhere in the state that local law enforcement can. The bill would create the Homeland Security Unrestricted Concealed Handgun Permit, which would effectively allow holders to bring concealed weapons places that expressly prohibit the carrying of concealed handguns, like churches and schools.
To receive the permit, an application would include extensive training including "simulated active shooter scenarios," similar to what police experience, the local Citizen-Times reported. The bill would also require applicants to receive a mental health evaluation and a federal background check.  
"The more guns we have in society, the politer society will be," Republican State Rep. George G. Cleveland told the Citizen-Times, echoing a mantra of the gun rights movement that has been repeatedly debunked. Cleveland is sponsoring a similar bill that would make it easier to buy handguns in the state.
Still, many in North Carolina were uncomfortable with the bill, including those in law enforcement. 
"You're taking the highest level of force and giving it to folks you have no control over," Buncombe County Sheriff Van Duncan told the Citizen-Times. "Taking all that out of the picture would worry me somewhat." 
Here we go again. If passed, Tarte's bill would accompany various others that have percolated around the country in recent years. Last year Georgia passed a similar law that would allow guns in some schools, churches and even bars. One local community tried to make it a crime to not carry guns. In 2013, a Missouri Republican attempted to literally criminalize the act of introducing gun control legislation in his state.
Unsurprisingly, many in North Carolina are worried about some of the proposal's potential consequences.
"Are we going to start muddying the waters as to who is law enforcement and who is not?" Democratic State Rep. Brian Turner told the Citizen-Times. "Those kind of shooter scenarios can be very confusing, and if we have gray areas, that could be very dangerous."
Those dangerous "gray areas" were on display all too vividly April 2 in Tulsa, Oklahoma. In that case, Robert Bates, who was not a police officer, was armed and acted outside the scope of his authority with tragic consequences. Bates had also received training, at least 320 hours of it, yet his actions were probably the results of a 'slips and capture' error, which professionals have said are made under stress by those inadequately equipped for it.
So far in 2015, more than 3,400 people have been killed by gun violence. Whatever the intentions of North Carolina's lawmakers, it's hard to see how more guns would do anything to bring that number down. Rather, Tarte's bill would increase the risk of situations like that in Tulsa, which is something Americans cannot accept.
h/t WBTV