Kristen Bell and Dax Shepard Just Admitted What All Awesome Couples Know to Be True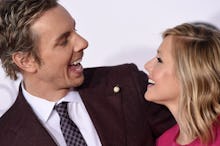 Kristen Bell and her husband of two years, Dax Shepard, couldn't seem more different on the surface, between Shepard's wild child reputation based on years of "piling on terrible habits," as he put it to Playboy, and Bell's as a straitlaced "goody-goody." 
"We're the Paula Abdul video 'Opposites Attract' personified," Bell said in a recent joint interview with Good Housekeeping.
When they first met, they weren't sure that dynamic would work. So what has the couple done to keep their relationship going for seven and a half years?
Couples therapy. 
Shepard told Good Housekeeping the couple started seeing a therapist almost immediately after they started dating. They attribute the success of their high-functioning, sloth-happy relationship to that completely unorthodox decision. Because let's face it: Relationships are hard, even shitty, every so often. The happiest couples are the ones who can openly admit it and talk about, in therapy and otherwise.
Getting honest about love: When we hear someone's in couples therapy, Shepard said, the assumption is, "Oh, their marriage is ending." But therapy isn't just for relationships in crisis. As Bell put it, "You do better in the gym with a trainer; you don't figure out how to cook without reading a recipe."
That means working things out even when things are great and "getting prevention information and strategies ahead of time, to implement into your relationship before you have issues or problems," Terri Orbuch, a professor at Oakland University and author of Five Simple Steps to Take Your Marriage From Good to Great, told Mic. 
Orbuch, who counsels many soon-to-be-married couples, said preventive counseling can help with learning strategies to deal with conflict and change, setting realistic expectations about the future, building trust and helping you communicate effectively. Unsurprisingly, a 2011 study published in the Journal of Marital and Family Therapy found that 70% of couples who undergo couples therapy report greater relationship satisfaction.
Orbuch explained that talking it out can teach couples "how to set realistic expectations that when they experience these challenges they will know, aha, these are typical and do not mean I'm in trouble!"
Talking it out: That honest communication extends to fighting. "The way Dax and I argue now — and we argue a lot; we disagree on almost everything! — is so healthy," said Bell. 
A 2010 study, co-authored by Orbuch, surveyed 373 married couples over 16 years and found that couples who have the most constructive fighting styles have the lowest divorce rates. According to Orbuch, that includes knowing the right time to fight, using "I" language, not dismissing your partner, actively listening and remaining calm. 
Because if we're being real, you don't always know exactly what you want from your relationship. Part of a successful relationship is knowing that things may change over time and communicating enough (on or off a therapist's couch) to smooth things over when they do.
As Bell said, "Dax helped me learn that I don't have it all figured out. Sometimes that's the greatest gift someone can give you."
That might be the best #RelationshipGoal we've heard yet. 
h/t Cosmopolitan