Girls' Jemima Kirke Shuts Down Abortion Shame By Telling Her Own Story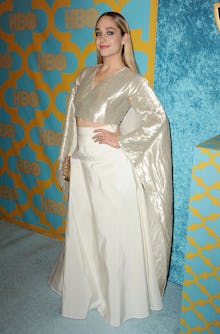 Girls star Jemima Kirke wants you to know she's one of the estimated 1 in 3 women who have had an abortion. 
In 2007, when she was an undergraduate and in a relationship that she was not certain of, she decide to have an abortion.
Kirke joins countless women across the United States sharing their abortion stories to eradicate the shame and stigma attached to the procedure, as part of the Center for Reproductive Rights' new Draw the Line campaign. 
More reproductive rights advocates are using this tactic to reshape the cultural narrative about who has abortions and why, as a wave of anti-choice bills reach state legislators.
While a third of women will have an abortion in their lifetime, their experiences are still judged in terms of being "good" or "bad." We don't know their stories — the emotional, physical and financial costs they had to pay — and yet we readily judge them.
The statistical prevalence of abortion in women's lives means "there are a lot of women around you who have stories like this, and for whom being able to get safe, legal, high-quality healthcare — or not being able to get safe, legal, high-quality healthcare — made a huge difference in their lives," Chris Iseli, chief communications officer of the Center for Reproductive Rights, told ThinkProgress.
The campaign brilliantly takes back the narrative by putting a face to the issue — a woman's face, rather than an image of a talking fetus, as is the strategy of the anti-abortion movement. Iseli regarded this tactic similar to one employed by gay rights advocates, with the idea being that if you know someone who experiences it, your perspective on the issue becomes more accepting.
Kirke, for her part, hopes that the sharing of her story sparks a greater wave of change around reproductive rights and the stigma attached to reproduction, so that future generations of women, including her two daughters, have one less body issue to worry about.
Because silence is not golden — and it changes nothing.