One Hashtag Shows Just How Powerful Female Solidarity Can Be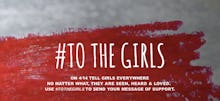 Instead of an ordinary social media campaign to promote her new book, All The Rage, author Courtney Summers seized an opportunity to empower young girls on Tuesday with the hashtag #ToTheGirls. 
Summers wrote a call-to-action for women on Twitter to "take the opportunity to tell the girls you know — and the ones you don't — that they are seen, heard and loved," she wrote. "Share advice. Be encouraging. Tell us about or thank the girls in your life who have made a difference in yours."
Countless women did just that, flooding the hashtag with heartwarming advice and wisdom, encouraging girls to honor their authentic values and the right to publicly advocate for themselves. 
Summers describes All The Rage as "a response to rape culture, victim-blaming and the ways we fail victims and survivors of sexual violence" — namely, the way in which our culture shames and silences women who choose to speak out.
"I really wanted to do something positive and encouraging for girls," she told Mic. "I wanted them to know they're seen, heard, loved and supported. I wanted them to know they matter."
For Summers, this is not just an isolated mission but a value central to her work. "I'm trying to explore and/or challenge the socially ingrained ideas and expectations we have of girls," Summers wrote in a Tumblr post about the main goal for her books. "[My books] are a response to the anger I feel about double standards in fiction, the way girl narratives are subtly and overtly dismissed, how we penalize girl characters for either being too much of a girl or not enough of one."
While the hashtag was launched Tuesday in conjunction with the release of All The Rage, the fact that April 14 was also Equal Pay Day and the one-year anniversary of the Boko Haram kidnapping of 200 Nigerian school girls only underscored the need for such an act of vocal female solidarity. And the incredible response proved countless others agree.
The response, Summers told Mic, has been "a great reaffirmation of the campaign's overall message: that girls matter."