In One Tweet, This Legendary Musician Sums Up How Streaming Screws Musicians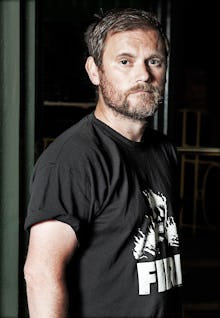 Geoff Barrow — producer, songwriter and co-founder of the legendary trip-hop group Portishead — is getting shafted. Like almost every other creative genius with a record deal, Barrow is making a pittance off the way his label distributes his music through streaming services. And with a single tweet Monday, he summarized everything wrong with how streaming services and labels value music today.
That's $2,509.61. Barrow has not clarified whether this figure covers a month, several months or a year (and the figures look like a rough estimate). But any way you slice it — it's not great.
Portishead essentially founded trip-hop, inspiring so much of the dreamy, syncopated hip-hop and R&B popular today. Kanye West, The Roots, The Weeknd and Phantogram have all cited the group as an influence (the latter two so much so that Barrow has accused them both of plagiarizing sections of Portishead songs). And for completely rewriting music history, Geoff Barrow makes a rough equivalent of a summer camp counselor's monthly pay.
Barrow's experience is hardly unique. The Black Keys, Thom Yorke and indie cellist Zoë Keating have all slammed Spotify for devaluing music and not properly compensating artists. Only the biggest names in pop can pull in healthy paychecks where their stream counts reach into the millions. But for smaller acts who don't write blockbluster hits, like Portishead, the streaming scene is bleak.
Streaming platforms themselves are not the worst offenders. It's widely known that Spotify estimates paying between $0.006 and $0.0084 per stream. According to an Information Is Beautiful infographic calculating how many streams artists would have to earn from each service to make minimum wage, YouTube pays even less. But the more troubling statistics involve how labels and artists split the money they receive from Spotify.
The streaming service takes a 30% cut of the money earned off an artist's streams. The other 70% is for the label and songwriters to split. The details of these deals are difficult to uncover, and several industry insiders — from the CEO of Merlin, which helps independent labels negotiate with streaming giants, to Bono — have argued that the real problem is a lack of transparency from labels.
Some estimates made by TechDirt show that labels keep up to 73% of the total stream payout after taxes, with artists splitting up the rest of the money between their songwriters, producers and collaborators. According to Information Is Beautiful, signed artists need to draw more than six times as many listeners as unsigned acts to make minimum wage off their music.
The label/artist relationship highlighted in Barrow's tweet is the aspect of streaming that needs the most attention. No streaming service (not even Tidal, for all its revolutionary buzzwords) has yet come up with an actionable plan to ease those negotiations. We need to do better by our musicians.