This 21-Year-Old Police Trainee May Be the Next Star of the Plus-Size Modeling World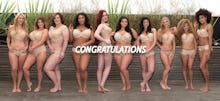 Up until this past month, 21-year-old Sophia Adams was a police trainee living in London. But after entering lingerie company Curvy Kate's "Star in a Bra" competition, she's added plus-size model to her résumé.
As the competition's winner, Adams became the new face of Curvy Kate and scored a yearlong modeling contract with Bridge Models. But she hardly always felt deserving of such attention.
"I used to have so many body hang-ups, hated my size and wanted to change myself," she told the Mirror in March. "But as I get older I'm realizing it's all about self-love and treating your body like the temple it is."
It seems this body positive sentiment is at the heart of Curvy Kate's competition. The brand reportedly launched it in response to Victoria's Secret's "Perfect Body" campaign — an attempt many decried as damaging and problematic. 
"The women in the [Victoria's Secret] campaign are beautiful, but we think that every woman is beautiful in her own right and should be represented fairly in the media too," a Curvy Kate representative told Glamour. "We truly believe that there isn't one type of perfect."
Adams agrees that consumers deserve more authentic representations in advertising. She said having "a really curvy girl as the face of Curvy Kate" would beneficially expose people to "what they really look like," in a video interview posted by the Daily Mail.
Adams joins a growing legacy of outspoken plus-size models forcing the industry to expand its definition of beauty. Tess Munster recently became the first woman of her size and height to be signed to a major modeling industry, and plus-size model Ashley Graham has made countless recent headlines boldly speaking out about body positivity. 
While Adams hasn't clearly commented on whether or not she'll eschew her police career for modeling altogether, it's inspiring to see a woman prove that beauty not only comes in all shapes and sizes — but is also found among women with diverse interests and talents. 
h/t Daily Dot