This Little-Known Musician Is About to Be the Biggest Pop Star of 2015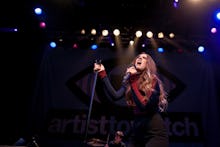 For a 22-year-old singer who landed a record deal through Tinder, Ryn Weaver is impressive. Her biggest hit, "OctaHate," debuted last June on Soundcloud and within the day it boasted 30,000 plays; within two weeks, the mark had passed 1 million. But most impressive of all is that she's living up to the hype. 
Weaver released her latest single on Friday, "The Fool." It's a fun, folk-tinged electronic jam. The track is off her  debut LP of the same name, due June 16, which is close to a year to the day Weaver's debut single launched her into the realm of musicians to watch. Thanks to "The Fool," Weaver is about to deliver in a big way.
The hype. Until Weaver gave her first full-length interview to Billboard last October, her backstory was subject mainly to speculation. This previously unknown artist turned into a star overnight, and her story was a mystery for four months after her musical introduction. Some bloggers called that a calculated move, but Weaver's collaborators were quick to her defense. 
"We're there to help her bring this to fruition," Passion Pit's Michael Angelakos, one of Weaver's producers and co-writers, told Billboard. "It's just easy because she's super talented ... It's really her vehicle, the voice and everything." 
Angelakos is one of Weaver's famous champions; among the others are musicians Charli XCX, Jessie Ware and Cashmere Cat, and producer Benny Blanco. Blanco is the brains partially behind Maroon 5's "Payphone" and "Moves Like Jagger," Rihanna's "Diamonds" and Kesha's "Die Young." He discovered Weaver, and Blanco knows a hit when he hears it.
"I definitely think [Weaver] is going to be the biggest artist of next year," Blanco told Billboard last October. "I'm going down on print saying that I think she's going to be one of the most influential artists of next year, and one of those career artists that can last a lifetime."
Who she is. Tinder comes in at the intersection of Weaver and Blanco. In March 2013, according to Billboard, Weaver was in Los Angeles with a friend who was swiping through Tinder and came across Blanco's face. Weaver recognized Blanco as a guy she'd hung out with on Halloween when she was living in New York and a guy she knew was a music industry insider. Blanco invited Weaver and her friend to a cocktail party we was throwing in Los Angeles, and that party was Weaver's big break. She showed up and hustled her Soundcloud account to a party of music insiders. 
"I'm a hustler, a modern woman," Weaver told Huffington Post. "I'm making my life work for myself."
The hustle paid off when, a few weeks later, Blanco's friends convinced him to pay attention to Weaver.
"So then I sent him my Soundcloud," Weaver told Fader. "And he ended up calling me two days later like, 'We really want to work with you.' Tinder got me a record deal."
Things started moving quickly for Weaver after that; Blanco whipped up a record label imprint for Interscope Records called Friends Keep Secrets, and signed Weaver to the subsidiary. Blanco played some music for Angelakos and he was so impressed he jumped on the project too. Then Cashmere Cat and Charli XCX joined the party, and soon they all wrote new music for Weaver. 
Impending stardom. After Weaver's success with "OctaHate" in June 2014, she released an EP in August called Promises. Then she started work on her debut full-length, The Fool. She performed at her first festival during the first weekend of Coachella, and music blogs were alive again praising the singer for her fantastic set. 
"Ryn Weaver lived up to the massive hype surrounding debut LP The Fool with a dazzling Coachella debut," Idolator raved. It looks like all that hype is about to pay off.