Here's How to Land a Date in Your City, According to a New Survey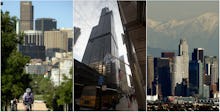 If you're going to date in a big city, you're going to need to get creative.
That's what a new analysis of over 600,000 conversations on the dating site Zoosk reveals as the most effective dating strategy. Pulling data from seven major metropolitan markets, Zoosk found that the thing that sets city daters apart is originality. 
That might not be great news for many Americans. A recent survey by the dating app Clover found that chain coffee shops, most notably Starbucks, were the most popular date spots of its users. But a Frappuccino, while comfortingly familiar, doesn't exactly convey that you're a fun, creative person with a unique personality and quirks — which, studies have shown, is the kind of person we're really looking for when we date.
According to the Zoosk data, here's how you can stand out in your city.
Chicago
The most suggested date idea across the U.S. was dinner, and Chicago was the top city among the dinner lovers. But as it turns out, mentioning the beach is actually 7.2 times more likely to prompt a response from Chicago singles. A visit to Montrose Beach, followed by deep dish pizza or dinner at Girl and the Goat? It apparently works.
Denver
While most American daters love going to dinner, Denver saw the least number of "dinner" mentions in dating messages, compared to the other six cities. In fact, you're five times more likely to get a response by mentioning the beach in Denver than elsewhere. Hey, novelty wins: "This nut asked me to go to the beach in Denver in October ... eh, OK, I'll go."
New York City
Drinks were mentioned the most in messages between New Yorkers (no wonder, the city boasts over 2,657 bars), but there's something a little yawn-worthy about the go-to drinks date. It turns out the city that never sleeps just wants to go to the beach: New Yorkers who mention going to the beach are 4.9 times more likely to get that date. NYC doesn't exactly scream "tropical beach getaway," but Coney Island and the Rockaways certainly have their charms.
Indianapolis 
Cocktails are thought to be the domain of New Yorkers, but it turns out that if you mention drinks in Indianapolis, you're 7.7 times more likely to get someone interested. (Think German biergartens and vintage lounges playing TCM movies.) Asking someone to a coffee shop also worked, getting a six times better response in Indianapolis. And it's worth asking: A Wall Street Journal study ranked the city #7 for "relationship formation rate," as measured by percentage of singles that went from "Single" to "In a relationship" on Facebook. 
Dallas
Loving food bodes well for you in Dallas. These Texans are five times more likely to want to want to go out to eat. While Dallas only ranked #19 in Thrillist's list of the top cities for food, perhaps Tex-Mex really is more seductive than you'd expect: A Match.com survey found that Tex-Mex restaurant Mi Cocina was voted the best restaurant for a date in the city.
Los Angeles
Drinks were mentioned least often among conversations between L.A. daters, but that's exactly why the offer works. In Los Angeles, a drink offer is six times more likely to sway someone in your favor. The retro clubs and old Hollywood cocktail bars are solid suggestions, followed by a movie, which Zoosk found West Coasters are five times more likely to respond to. 
Boston
Foodies rejoice: Singles in Boston are 4.5 times more likely to respond to mentions of dinner. Which makes sense — Beantown ranked #11 on the Thrillist's list of food cities. Digging into some lobster rolls and then stopping by the North End for a cannoli just sounds more appealing than the typical movie date for Bostonians. Of course, all of that bodes better for men than women — the Boston dating scene for straight women is famously rough.