It's Time We Started Taking Ariana Grande Seriously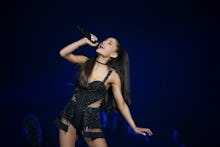 When Ariana Grande's live cover of Whitney Houston's "I Have Nothing" hit YouTube last week, the Internet seemed surprised. It seems that most people still think of her as some kind of Nickelodeon character because writers and viewers alike were astounded at the pop princess' vocal ability.
Grande is the master of reinvention — she just moves a little too fast for some. Her final episode as a Nickelodeon sidekick aired July 17, 2014, and by Dec. 5, she had two Grammy nominations and two No. 1 albums — so it's easy to forget how much she's accomplished. But her concert performance of "I Have Nothing" was not a fluke. It was another demonstration of the singer's star quality.
Did everyone forget the time Grande sang "Tattooed Heart" live at the 2013 American Music Awards and earned a standing ovation from a room of music industry insiders? What about the solid two years where she was consistently compared to Mariah Carey? Or when she landed a record deal in 2011 because of the raw YouTube vocals she uploaded?
It's time we started taking Grande seriously.
Started on the stage: Twenty-one years old, Florida-born and proudly Italian, Grande started her career where most singer-actresses hope to end up: Broadway. She played a supporting role in the stage musical 13, then moved to the silver screen after auditioning for a role on Nickelodeon's Victorious. After the show was canceled (despite an Emmy and high ratings), Grande took her supporting role into a spinoff called Sam & Cat. 
She may have been a child star, but Grande's trip to stardom is a far cry from other ill-advised Disney and Nick reinventions. And she's actually said she only ever acted to get a foot in the door for her music career — looks like it worked. 
Music was her plan all along: "I started in musicals because I wanted to sing," Grande told Complex. "I never liked acting. I auditioned for TV to get a platform to get a record deal and then I fell in love with acting because it was fun."
During Grande's time on Nickelodeon, she filmed herself singing various covers of powerhouse vocalists and uploaded the videos to YouTube. She ripped a page from Justin Bieber's playbook when a record executive noticed the videos and signed her at 17. She'd tear another page from Bieber's playbook a little later on when music guru Scooter Braun became her manager.
"I started watching videos and I started getting blown away by what an incredible voice she had," Braun told MTV in 2013. "Not many girls can sing like that girl. Not many people can sing like that girl." 
She deserves to be taken seriously. Grande has proven herself, yet people persist in the child-star stereotype of diva behavior and cattiness. Whitney wasn't exactly an angel, yet she's canonized among the best pop singers of all time. And for all the flak Grande gets from the tabloids, she remains intelligent and straightforward in the major interviews she's given. Above all, there's her voice and poise under pressure.
"I never really expected to be taken seriously as an artist, and it's just been the ultimate, proudest achievement," Grande told Cosmopolitan. "I've dealt with a lot of people not knowing what to expect from me because of my age and my personality. People often mistake my kindness for weakness, and they didn't expect much from me, because at the end of the day, I'm just a nice Italian girl from Boca."
That nice Italian girl has a four-octave range, a whistle register and one of the greatest pop records of the past year.